Worst Moving Mistakes & How to Avoid Them

Tips & Tricks | PUBLISHED 07.08.19 | Jennifer Ventresca
The summer moving season is in full-swing for down-sizers, up-sizers, and new home buyers. Making the big move can be expensive and stressful for the most stout-hearted people. If you're making any of these gaffes, you could be making things worse for yourself:

Mistake #1:
Procrastination.
Moving is hard work.
Planning.
Packing.
Coordinating.
Imagining your existing belongings in a new space.
Putting off the inevitable (a.k.a. procrastinating) is probably the most common and absolute worst mistake homeowners make. Here's why.... not planning and not enlisting appropriate help can be disastrous for a variety of reasons.
First, if you are doing it yourself, packing things properly takes time. A LOT OF TIME.
Time to sort.
Time to wrap delicate items.
Time to tape and pack boxes.
Time to label those same boxes.
Oh, and about wrapping those delicate items -- you'll almost always need more packing paper (or newspaper) than you might assume. If you're a procrastinator, you will likely run out of time, patience, and just about any other supply you might need.
Second, if you plan to hire a professional, delaying your search to hire a pro may lead to you not finding the right mover for your needs -- or possibly not finding a mover, period. The summer moving season is busy for a reason -- everyone who needs to move is moving. So the pros are booked solid and you'll be left doing it alone.
Remedy
Whether you are moving on your own or using a pro, create a moving timeline. (You can download your own customizable "Ultimate Moving Checklist"). Start with the date you need to be out of your home and then adjust the timeline by working backwards to the current date. Then put those deadlines on your calendar (paper or electronic) and stick to it. (Of course, being ahead of schedule is fine too.)

Mistake #2:
I can do it all (a.k.a. the unrealistic DIYer).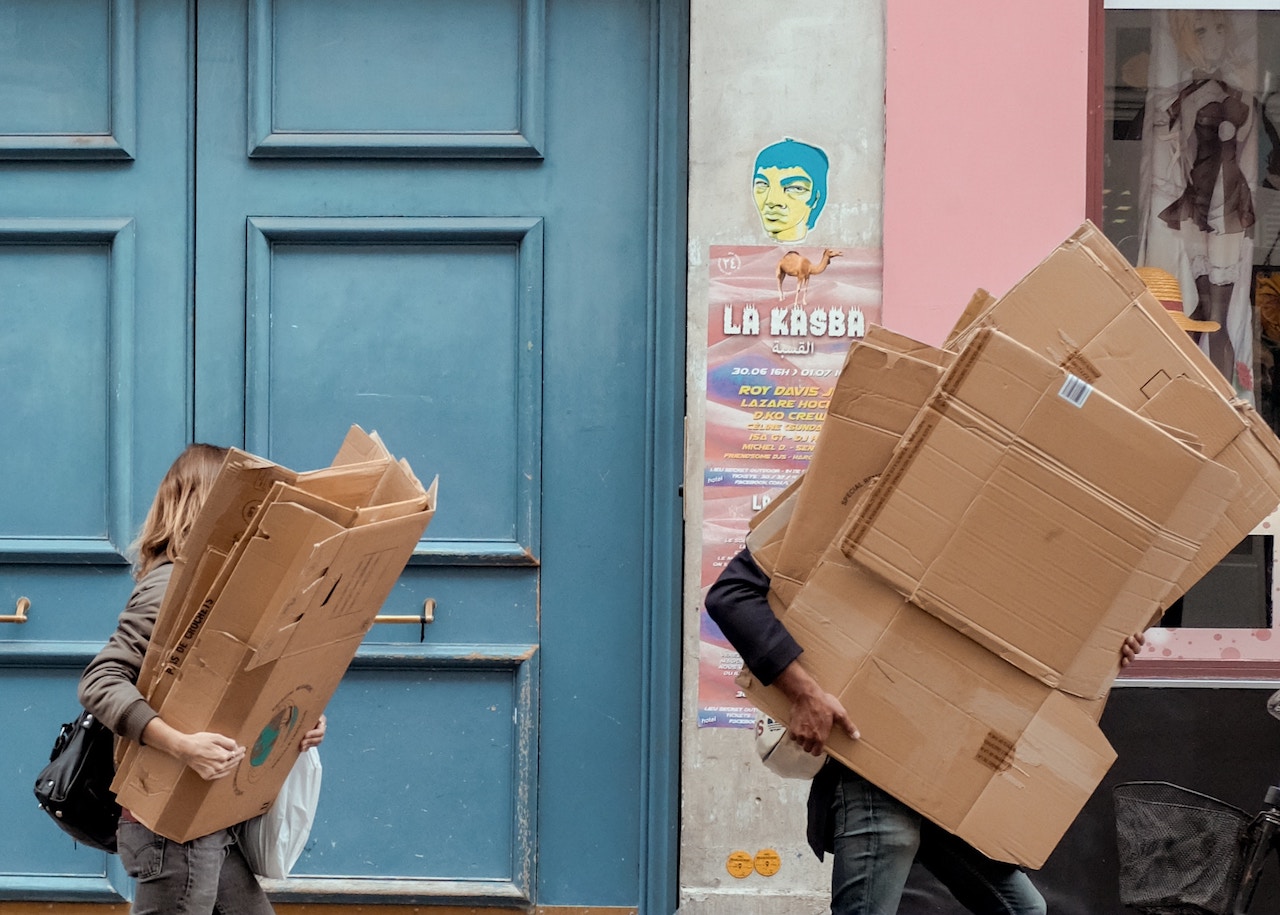 Moving will almost always take more time and effort than you estimate. If you have unrealistic visions of endless time, energy, and patience to devote to your move -- even with the help of enlisted friends and family -- you might be letting hubris fool you into thinking that you can do it all yourself and not seeking the helpful services of moving and/or estate professionals.
Remedy
Be realistic with your needs. If you're upsizing from a 350 ft2 property, chances are good that you can handle the move on your own -- maybe with the help of a friend or two and the use of a rental truck or van. On the other hand, if you're downsizing from a 7,000 ft2 home to a 900 ft2 home, then you'll likely be better off hiring professionals to handle the task.
Yes, professional movers can be pricey, but if you've done your homework (see #3) and hired the right team, the cost is almost always worth it -- saving you ...
time...
stress...
... your knees and back!
If you must do it yourself, be sure to allow adequate time to do all the things that need to be done (check out this "Ultimate Moving Checklist"). Also, be sure to research how much material you're going to need (i.e., moving blankets, strapping, rope, packing tape, packing peanuts/paper, boxes, etc.). Searching for someplace to buy moving boxes at 6:30 p.m. on moving day is no fun!
On that note, actually, Moving.com has a nifty tool for calculating packing material quantities you may need based on your number of bedrooms, number of people living in the home, your lifestyle, and your packing style. U-Haul has a similar calculator that takes a few more details about your home and furniture into consideration in estimating what supplies might need.

Mistake #3:
Not doing your homework.
Finding the right mover for your specific moving needs takes a little bit of research. Research takes time. However, the time spent doing proper research will save you much more time (remember, "time is money") and aggravation in the long run. There are a lot of moving companies out there, some more professional and transparent than others.
Years ago (in the days before the internet), savvy moving companies would name their companies "A-1" or "A+" moving so that their alphabetical telephone book listings would appear amongst the first knowing that most people wouldn't look past the first five or so listings. Today, savvy moving companies pay for premier placements in online searches for the same reasons. If you simply choose the first company popping up on your screen, you may not be doing yourself any favors and you may risk your wallet, time, and overall peace of mind. (That's not to say that those companies appearing at the top of your search are in any way unqualified or unprofessional -- just that you need to do your homework.)
Remedy
Take a little bit of time to actually read reviews from credible sources, get referrals from friends and colleagues, and be sure to actually speak with representatives from several different companies. Most importantly, get several price quotes from movers with whom you feel most comfortable to compare their pricing and services. Make sure that they explain exactly what is (and isn't) included in the quote. Also, be sure to get their timeline in writing (i.e., dates for packing/loading, transit times, dates for unloading/unpacking, etc.).
Finally, listen to your gut -- the best priced mover may not be the right mover for your project. There's that old proverb, "if something sounds to good to be true, it probably is." Choose the mover you are most comfortable with.

Mistake #4:
Waiting until moving day to pare-down your stuff.

Time's up! Not throughly thinking through your move will leave you in a last minute panic -- particularly in regards to understanding which furniture pieces and belongings will actually work aesthetically and spatially in your new home.
So the final worst mistake (which, in a way ties-in to mistake #1: procrastination) is waiting for the last minute to decide that you need to have a tag/garage/moving/estate sale because you:
A) don't want to bring everything with you;
B) decide that your things won't "work" in the new locale;
C) can't fit it all in your SUV;
D) any other reason that may arise;
E) any or all of the above.
Waiting to pare-down your belongings up until the final hours of your move will almost always backfire on you -- in the worst way. No one wants added stress in their lives, but postponing important decisions is a sure-fire way to do just that.
Moving items outside.
Sorting.
Pricing.
Haggling.
Getting rid of stuff that didn't sell.
All this with the move date looming over you. Chances are that your move isn't a last minute emergency move, so why put yourself through all that stress and aggravation?
Remedy
If you have a new home already lined-up, ask your real-estate agent if he/she can get you a floor plan. If not, make a quick sketch yourself (using overall measurements of the rooms in your new home and some graphing paper). This might take a little bit of time, but it's relatively easy to do and will pay-off in the long-run. Here's how:
● Use graph paper to keep things in scale. (We recommend using a 1 square = 1 foot scale to keep things really simple.)
● Then go through each room of your current home and figure out which furniture and decorative pieces you are definitely planning to keep and measure them. While you're at it, note those "maybe" pieces that you might be able to bring with you but you're not yet certain about.
● Using other pieces of graph paper, sketch out the furniture shapes using the same scaling as the floor plan. Label the pieces and cut them out.
● Place the "definitely keep" furniture shapes in their respective rooms within your new-home floorplan.
● Likewise, place the "maybe" pieces in their places. Do they fit? If not, then those are prime candidates for a sale (along with all the other pieces that simply didn't make the "take" or "maybe" lists).
● Then consider whether those items will be a natural aesthetic fit for the space. (In other words, furniture with a woodsy, northeast feel will likely look "out of place" in a Florida beach house.)
Once you've decided which pieces you're keeping, this is a good time to ensure that you have the right sized moving vehicle (trailer vs. van vs. box truck) to fit the items you plan to take with you. If not, perhaps you need to upgrade to a larger vehicle.
Finally, now that you know which items are dispensible, you can start planning how you will sell those items. (By the way, talking with an estate specialist can really be helpful in this regard. They will let you know if there is a market for those items and can do all the leg work for you!)


See how BRG's estate services can help you.
If you are planning to downsize, move, or even remodel your home, contact the estate specialists at Black Rock Galleries and learn how our professional can save you time and stress, as well as get you top dollar for your furniture, art, decorative accents, tools, household items, outdoor furniture and more.
Keywords: moving, movers, downsizing, upsizing, new home buyer, packing, u-haul, estate sale, tag sale, yard sale, estate services, BRG, black rock galleries, estate liquidator, liquidation