What Lies Beneath...

On the Auction Block | PUBLISHED 04.11.19 | Jennifer Ventresca
You'll never believe what we found in a pile of linens!
Our managing partner, Grant, motions for me to come to his office. I can tell from his bemusement and expression that he has some secret or surprise to share. As I enter, he sits down at one of the workstations. With a quick scan of the room, I see some estate photos on his laptop and an assortment of what (at first glance) looks like a garbled mess of costume jewelry in a large, gallon-sized baggie. The reason for his jovial spirits is still a mystery -- but not for long.
He begins telling me about a box filled with linens which our team acquired at an estate they visited the day before. The box is filled with tablecloths, napkins, vintage embroidered tea towels, miscellaneous fabrics, and the sort. Basically nice, but nothing extraordinary.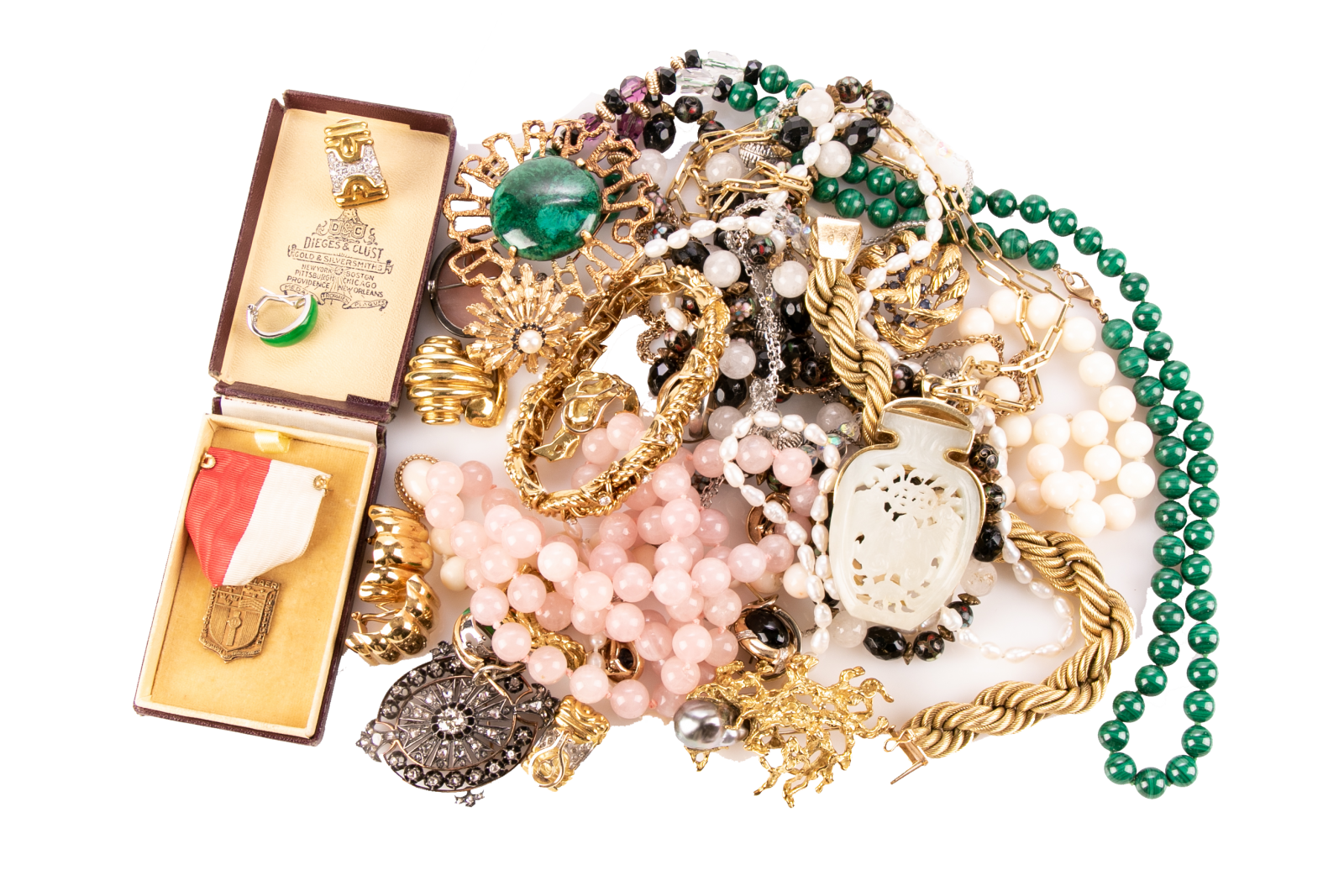 Grant continues his story, explaining that as he rummages through the box this particular morning he feels something hard, but malleable, wrapped inside a piece of linen. Judging from the crunching sound, he surmises that whatever it is, it is inside a plastic bag. He digs a little deeper, pulls out the linen-enshrouded form, and unwraps the bundle. Indeed, there is a plastic bag, but much to Grant's surprise, the bag is filled with an assortment of jewelry.
Grant, much like me when I first spy the ball of jewelry on his desk, instantly guesses this clump of jewelry is going to amount to nothing more than a cluster of costume jewelry, but doing his due-diligence, nevertheless investigates further. Upon opening the bag, he carefully begins separating the ball-like mass which is entwined with all matter of jewelry.
Yes. There are a handful of costume jewelry pieces, but then he pulls out a weighty bracelet -- Tiffany 18k gold with diamond studs. With his curiosity piqued, his keen "treasure hunter" instincts gear-up. Next is a brooch -- Victorian gold and sterling silver with a multitude of mine-cut diamonds all focusing on a large central mine-cut diamond. With several other stunners in the batch, including a large fresh water pearl pendant, a white jade ("mutton fat" as it is known in China) and 18k gold pendant with intricate carvings, and other fine gold and sterling silver pieces, our estate sale team will have quite the time evaluating and cataloging this fun and fabulous find.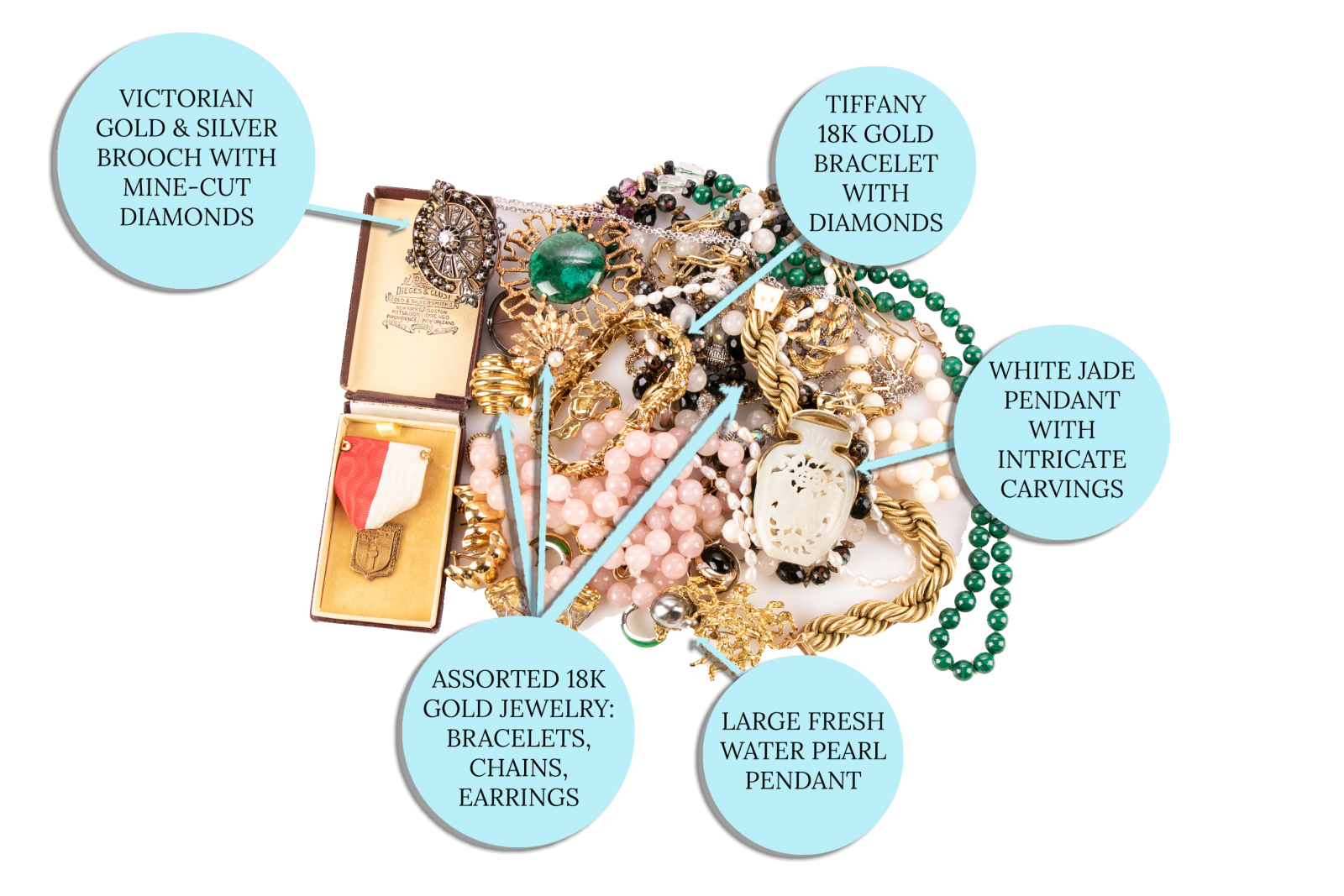 In all, Grant estimates that this pile of linens (or rather the jewelry he found in the pile of linens) should bring approximately $10,000 to $15,000 when sold at auction. Some of these pieces will appear in one of our upcoming Greenwich auctions, while others will be reserved for our Fall Exceptional Auction.
So what is the lesson in all of this? if you are in the process of downsizing, moving, or clearing out the estate of a loved one, call in the experts at BRG to evaluate the property. You may never know what lies beneath the surface until you let us dig a little deeper.
Keywords: hidden treasure, fine jewelry, costume jewelry, jewelry, Tiffany, 18k gold, jade, Victorian, silver, sterling silver, estate, estate sale, auction