The BRG Family Christmas Celebration

BRG Happenings | PUBLISHED 12.19.19 | Jennifer Ventresca
Holidays -- any holiday -- are such a great opportunity to focus on bringing the family together. — Lidia Bastianich
Dark went the night, but the soft golden glow of candles flickering amidst evergreens, crimson roses and carnations, and velvety white lilies be decking burlap covered farm-style tables filled the rustic interior of the Harborview Market with warmth and ambiance. A band playing holiday standards along with a fun playlist added even more festive vibes to the celebratory air. The cacophony of conversation amongst those gathered let everyone know that (in the famous words of the Black Eyed Peas) "tonight is going to be a good night."
How could it not be a good night? When you're surrounded by family it's better than good -- and we are family! Some by blood (yes, since this is a family business there are several blood relatives in the group), others by the common comradic bond created by working closely together day by day. Each year, our family grows across all the BRG brands, morphing into an amazing tapestry of personalities, backgrounds, talents, and skills. Some of our members have moved on to other ventures -- and return as alumni for this reunion of sorts. This year, the BRG family expanded yet again with new hires at our HQ, as well as in our Boston and North Carolina locations. As we celebrated another banner year, the BRG family gathered together for our annual BRG Family Christmas party.
The BRG family enjoyed a few hours of fun conversation, met spouses and significant others (some for the first time), and welcomed back beloved BRG alumni. Between the gabbing, gobbling, and dancing, the BRG family was able to push aside work related matters and really enjoy each other's company.
We like to keep things "local" at BRG. So the warm and festive evening was held at the Harborview Market (thank you Michelle and Rick Torres!!!) in Bridgeport with an extended cocktail hour featuring a nice selection of hors d'oeuvres (fig and prosciutto with goat cheese crostini, Brie tartlets with a raspberry compote and candied walnuts, and mini crab cakes), a nice assortment of wines, Prosecco, and other fun inducing beverages. At the same time, the Harborview provided a delectable harvest board complete with cheeses, charcuterie, and fruit.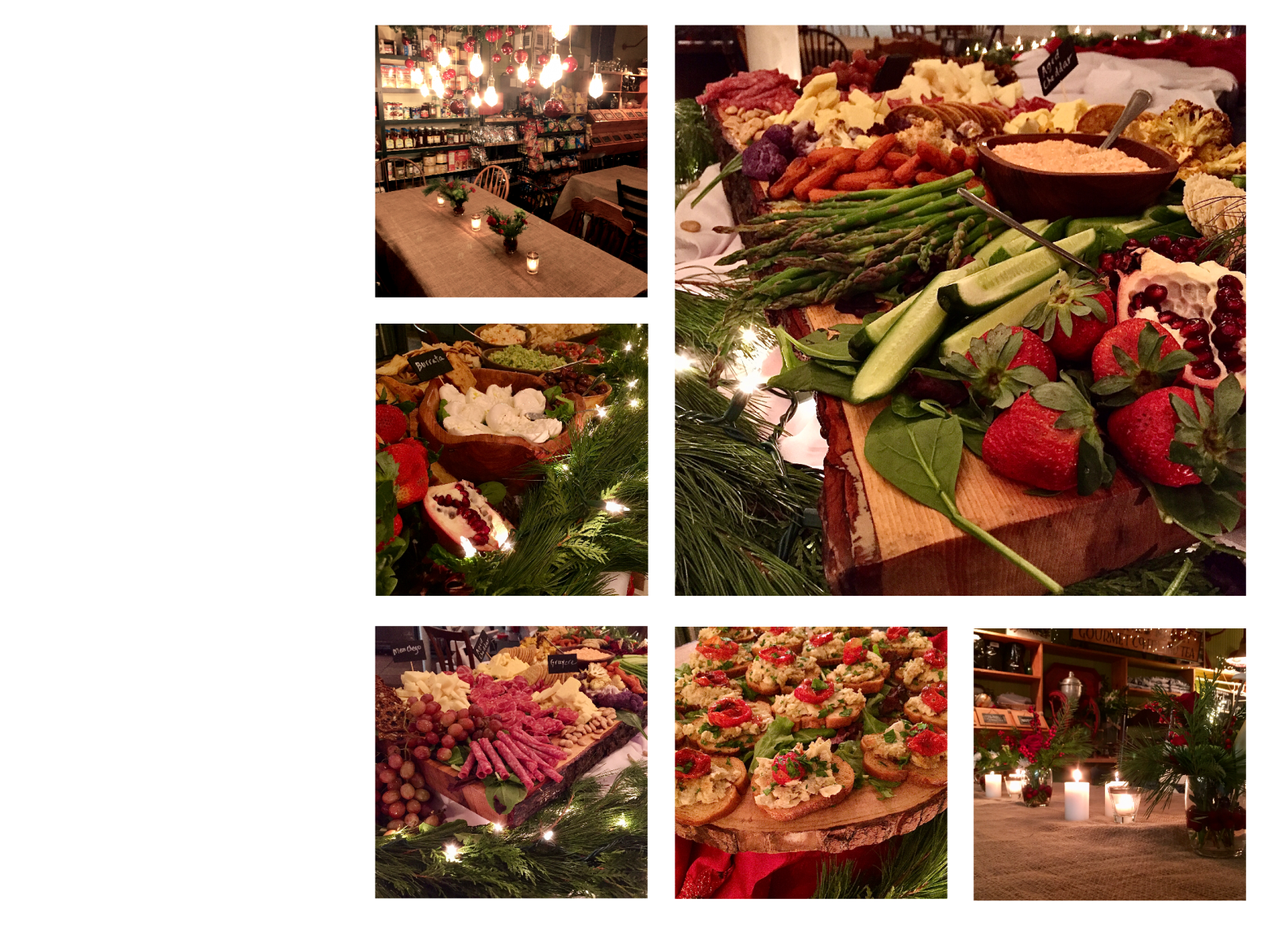 After some heartfelt and touching comments by BRG's managing partners, Christie Spooner and Grant Panarese, the real feasting began. Menu highlights included a wonderfully hearty winter salad with mixed greens, pears, candied walnuts, and just the right touch of Gorgonzola cheese; a perfectly cooked beef tenderloin with all the right accoutrements; a tender chicken piccata; scalloped potatoes au gratin with gruyere cheese; perfectly prepared al dente penne ala vodka; and beautifully caramelized roasted baby brussel sprouts with cranberries and roasted walnuts. Oh, and just for fun -- to round out the holiday fare -- was milk and a selection of house-made cookies. Who could possibly resist the cookies? Santa himself would be jealous. (By the way, the Harborview Market's chocolate chip cookies are nothing short of extraordinary!)
There was yet another Torres that played a key role in the festivities ... John Torres (@colorfieldsmusic) ... our musical entertainer extraordinaire along with his band mates, who had all of us reveling in the fun as they rocked-out their playlist filled with a nice blending of Christmas and holiday standards along with a good dose of R&B, a touch of classic soul, and some well-known rock hits to boot.
Eventually, all good times must come to a close and we did so with gusto. It's true ... we are family! And this big extended family wishes you and yours a very merry Christmas season and a happy and healthy 2020. Happy Christmasing!
Family is not an important thing. It's everything. — Michael J. Fox
---
How do you celebrate Christmas with your family (work, home, or otherwise)?
Keywords: Christmas, BRG, Black Rock Galleries, Harborview Market, Color Fields Music, Christmas Party, Holiday, Festive, Family, chocolate chip cookies, BRG Family