Time Capsule with Ties to Waldorf in Cortlandt Manor Estate

On the Auction Block | PUBLISHED 11.04.19 | Jennifer Ventresca
Imagine the scene: An old world, expansive 18th century country retreat home, complete with "secret" and sunken gardens, a tea house overlooking a pool, filled with 18th and 19th century period pieces all within an hour's drive of Manhattan's posh Park Avenue, filled with rich history and left as a virtual time capsule.
This might be a "made for Hollywood" story based right in Cortlandt Manor, New York with acclaimed hotelier, Claude Philippe, as the main character. Decades after the fully furnished estate was passed to the husband of Philippe's widow, many of the original contents (hand-picked and curated by Philippe himself) remained relatively untouched — down to the collection of Philippe's cuff links discovered in the closet.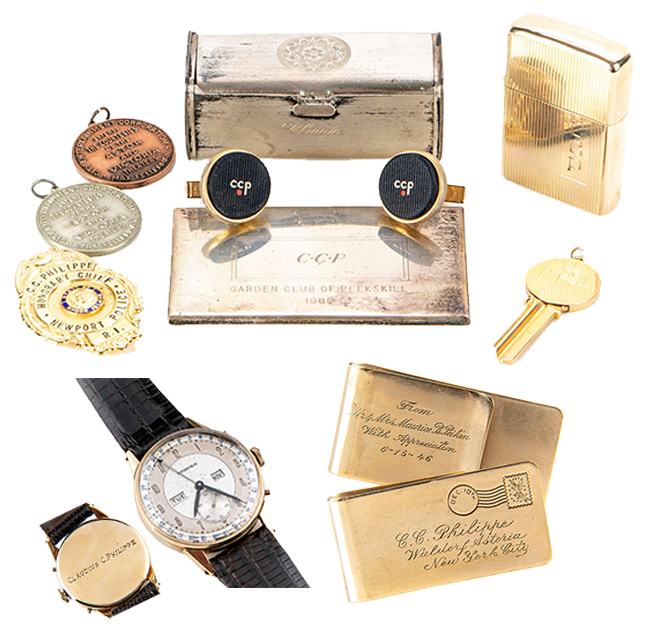 Now, as a result, we are pleased to offer the contents this gentleman's estate filled with many personal belongings originally hailing from the estate of Claudius C. Philippe in our Time Capsule Estate of Claude Philippe Watch Hill Farm NY online auction closing on Wednesday, November 20. Philippe's style, flair and sophistication lead to his being known worldwide as "Philippe of the Waldorf" — the Waldorf Astoria of New York, that is. During his highly visible career, Philippe mingled and collaborated with celebrities, "old money" socialites, and the glitterati of the period. Originally born in London in 1910, Philippe studied hotel management at Sorbonne Université in Paris. His tenure at the renowned Waldorf-Astoria Hotel in New York began in 1931 as their catering manager. Twenty years later, he was their general manager and executive vice president. By the end of the 1950s, he left the Waldorf for other hotelier opportunities and eventually went on to manage a hotel consulting firm until his death in 1978.
"This is one of those old world estates that are becoming increasingly difficult to find. This home was designed for the high-end entertaining and socializing of the mid 20th century," explains Grant Panarese, managing partner of Black Rock Galleries. "Considering the people hobnobbing with Philippe at the Waldorf Astoria, you can only imagine the celebrations that took place in his private retreat house. Then to have a second owner, Philippe's widow's husband, who, for all intense and purposes leaves the interior in its original state, makes this collection all the more interesting."
Perhaps even more notable than his acclaim and success as a hotelier, is the fact that Philippe was a trailblazer in the fight against racism — beginning before the Civil Rights Movement became a movement. In fact, there are several stories recounting Philippe's attempts to desegregate the Waldorf Astoria — one in which Philippe was actually fired by the Waldorf for signing Harry Belafonte as a headlining entertainer at the Waldorf. Philippe's desegregation efforts touched many, including the renowned Count Basie, who presented Philippe with a gold watch bearing his engraved signature. (Surprisingly, the Waldorf quickly took notice of the overall increase in profits and sales as a direct result of Philippe's prowess of finding excellent entertainment and signing them to appear at the hotel.)
Philippe's fully furnished home at Watch Hill Farm in Cortlandt Manor, New York was inherited by its present owner upon the death of Philippe's widow and essentially left the remaining personal property of Claude C. Philippe untouched and in-tact. As a result, many of the items from the estate originally hail from Philippe's personal estate collection including: furniture, early sterling silver, a vast assortment of fine paintings, an extensive copper pot/cookware collection hand-chosen by Philippe himself for his state-of-the-art kitchen, and the afore mentioned cuff links in the closet.
This fun and pretty collection is full of interesting history in the context of its original owner. We hope you enjoy this unique estate collection as much as we do. The Cortlandt Manor Estate collection is only available through Black Rock Galleries. To find auction details and to explore the full estate catalog visit www.blackrockgalleries.com. Happy bidding!
Keywords: Time capsule, mid century, mid century modern, old world, Waldorf Astoria, Claude Philippe, Claudius C. Philippe, desegregation, Harry Belafonte, Count Basie, Starlight Roof, Watchtower Farms, Cortlandt Manor, New York, Black Rock Galleries, auction, online auction, estate, collection