Browse
How to Design an Elegant Outdoor BBQ

Design & Decor | PUBLISHED 06.03.21 | Lily Coulson
With warm weather and pleasant sunny days coming up, this is the perfect time to upgrade your backyard area. If you choose to design an elegant outdoor BBQ, you will be able to cook outside more sophisticatedly and have a fantastic place for entertaining. There's nothing quite like dining al fresco, and with your BBQ area set up, you'll be able to do so whenever the weather permits. We have prepared tips to aid you in this project.
Where should you place your outdoor BBQ?
Barbeques are an excellent way to impress your guests with your culinary talents, but a good barbeque requires the perfect site in addition to a competent chef. The location of your BBQ can have an impact on the quality of your gathering, along with various safety concerns. If you're not careful, combining fire with flammable chemicals, hot food, large groups of people (and possibly alcohol) is a formula for disaster. Here are some things to keep in mind when setting up your grill.
Pay attention to your surroundings
A BBQ is an open fire, so you always need to be cautious. To ensure your safety, keep the barbecue at a safe distance from your house - don't put it just outside the back door. Grills should always be placed on a flat, clear area.
While each grill manufacturer has its own set of rules, most experts agree that your barbecue should be at least 3 feet away from any house walls. In addition, your grill should be located at least 10 feet away from any flammable or combustible materials that could catch fire.
Examine the direction of the wind
When grease burns, it produces fumes that contain carbon monoxide and other harmful compounds. To avoid inhaling smoke, be aware of which way the wind is blowing and make sure to place your grill accordingly.
You don't want the smoke from your BBQ going into your house or your neighbor's property.
Find shade
An elegant outside BBQ could be one of the most fabulous things about Summer - a place to prepare your favorite Summer recipes. But no one wants to stand next to a blazing hot grill when the sun is beating down on you and it's hot outside. To prevent that, place your barbecue in the shade, where it will be covered for most of the day. Natural shade from trees is ideal since it allows air to circulate swiftly, but be wary of low-hanging branches.
Design tips for an elegant outdoor BBQ
Would you like to be the envy of your neighborhood with your elegant outdoor BBQ and take your backyard cooking to the next level? An al fresco cooking area will be a fantastic addition to your beautiful farmhouse kitchen. We have a list of modern design ideas to consider, whether you're sprucing up an old outdoor grill or constructing a new one.
Create a refined cooking area
Outdoor kitchens combine the fun, open-air atmosphere of a barbecue with the convenience and elegance of indoor cooking. You can combine your BBQ appliances with the rest of the elements and create the ultimate outdoor cooking space.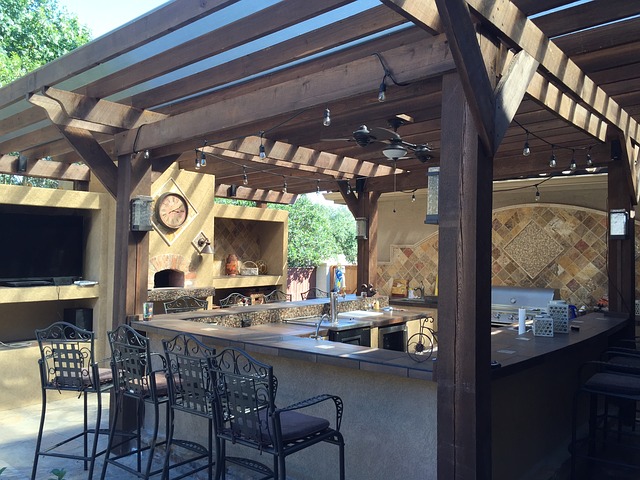 There are so many great, unique ideas for your outdoor cooking area.

An ideal barbecue area should have enough room for all utensils, materials, and equipment needed to prepare and cook meals. A small refrigerator would also be a great addition. If you need to make more space in your yard, consider self-storage rooms to eliminate the items you don't use often. Your elegant outdoor BBQ will be worth all the work you put into redefining the backyard space.
Put the focus on countertops
The extra countertop area has many uses and is vital for an elegant outdoor kitchen. Installing a sink and having more space could allow you to stay outside without moving between the inside of your home and the backyard.
Because every surface needs some level of maintenance, you'll need to carefully assess the material for the countertops based on your location and lifestyle. If you have children or if you're a messy cook, you should probably go with an easy-care option.
Invest in an outdoor range hood
An outdoor range hood, commonly known as a barbecue hood, is a ventilation system mounted outside, usually in a covered or open patio. BBQ hoods, often known as wall range hoods, can be installed on a wall. Alternatively, you can suspend it from the ceiling, away from the wall, above a grill or kitchen island. An island range hood is the most common name for these.
A BBQ hood will keep your space smoke-free, which is a great feature, especially if you plan to host parties and gatherings. It will also keep your backyard patio clean, without oil and grease accumulating on your beloved garden area items.
Add a chic outdoor dining set
When you design an elegant outdoor BBQ, you will also want to add chic dining set to use when you entertain and host your gatherings. Outdoor sofas and other furnishings will unquestionably make your environment more enjoyable for guests. A shaded area in your backyard will also be quite appreciated! People who want a break from the heat can take advantage of the cool shade while eating delicious meals.
Nothing beats alfresco dining.
Can neighbors complain about your BBQ?
What if there's a gentle breeze, and smoke from your grill billows into your neighbor's property, alongside cooking smells? Smoke from a barbecue, a garden fire, or even an outdoor wood burner might be considered an offense. If your or your neighbor's grill is close to a dwelling, you should exercise caution.
Local councils or authorities have the ability to investigate complaints about smoke near residential properties that can generate a statutory nuisance. They will evaluate the amount of smoke produced, the frequency of the barbeques, the average duration, and whether the activity is regarded as inappropriate. Cooking smoke is unlikely to be considered a statutory nuisance, so if you want to design an elegant outdoor BBQ, you probably won't have to worry about that.
---
Lily Coulson is an experienced interior designer dedicated explicitly to turning homes into luxurious design havens. She also works as a freelance writer and content creator for numerous design portals. In her free time, she loves hiking and exploring beautiful places.
---
Keywords: barbecue, barbeque, barbecues, barbeques, BBQ, BBQs, outdoor decor, dining al fresco, garden, garden decor, outdoor entertaining, al fresco