Favorite End of Summer Recipes

Tips & Tricks | PUBLISHED 08.30.19 | Jennifer Ventresca
Whenever a roomful of BRGers gather for a meeting, the topic of discussion will almost always transition to food. It might start with an innocuous, 'I'm hungry,' or 'Hmmm. I could go for lunch right about now.' The floodgate then opens for all sorts of discussions about what someone had for dinner the previous night or where another person may be dining the next night. Sooner or later someone mentions a tasty dish and others ask for the recipe.
Now with summer's end looming and the kids back in school, some of our BRGers are sharing their favorite summertime family recipes with you. (Yes, Labor Day Weekend is upon us, but there are technically a few more weeks of summer!) So enjoy this 'pot luck' assortment of fun foods.
---
Of course, it should always start with the cocktail! It wasn't until recently, that we realized we had our own in-house mixologist. Michael, who under his own admission, states that his cooking skills are centered around the microwave and takeout. But once upon a time, he actually tended bar. Now he offers his spin on his favorite summertime cocktail, The Fish Bowl.
The Fish Bowl
Ingredients:

6 oz. Vodka
6 oz. Coconut Rum
4 oz. Peach Schnapps
2 liters Sprite
Nerds Candy
Swedish Fish Candy
Orange Slices (for garnish)
Ice
2 Spherical/Balloon Beverage Glasses
(fishbowl-style is best for presentation)

Directions:

Line the bottom of each glass with Nerds candy (creating the look of fish tank gravel).

Place 3-4 ice cubes on top of the bed of Nerds (not too much as you want the ice and fish to move around once the liquid melts).

Place two (2) Swedish Fish atop the ice.

In a shaker, add the Vodka, Rum, Schnapps and Sprite over some ice and shake vigorously for 10-15 seconds.

Using a strainer, slowly pour the contents of shaker over the ice, Swedish Fish, and Nerds; and allow them to disburse freely.

Add orange slices for garnish and a straw.
---
One of the things that our staff almost unanimously agrees upon is that that so much of summertime cooking can be done on the grill, which means fewer dishes to wash! This next recipe is easy, mostly make-ahead-of-time (the marinade and chimichurri sauce) entree that simply needs to be grilled right before serving. So here is a favorite end-of-summer skirt steak recipe with chimichurri sauce that is sure to wow your guests:
Skirt Steak with Chimichurri
Ingredients (Steak):

1 small Yellow Onion (coarsely chopped)
1 to 2 small Garlic Cloves, peeled
1/4 cup EVOO (Extra Virgin Olive Oil)
1 Tbsp EVOO
2 Tbsp Water
2 to 2.5 lb Skirt Steak (with silver skin trimmed off)
1 Tsp Kosher Salt
1/2 Tsp Ground Black Pepper
Sea Salt (to taste)
Chimichurri Sauce (for serving, see below)

Ingredients (Chimichurri):

1/2 cup minced onion
1/2 cup chopped fresh Italian parsley
1 Tbsp chopped fresh oregano
1 to 2 tsp finely minced garlic (depending on your tastes)
1.5 Tsp Kosher salt
1 Tsp ground black pepper
1/2 Tsp Dried Peperoncino (Red Pepper Flakes)
1 cup EVOO
1/2 cup red wine vinegar
Directions:
For the marinade, simply combine the onion, garlic, EVOO, and water in a blender or food processor until smooth. Pour into resealable plastic bag and add the skirt steak. Make sure that the steak is fully coated on both sides before placing in the refrigerator for four to 24 hours.
Meanwhile, it's time to make the chimichurri sauce. In a bowl or jar, combine all the ingredients and mix (or shake) well. Cover and place in the refrigerator. Let the flavors meld for at least a few hours. (Sauce is good for up to two days).
To cook the steak, remove the skirt steak from the marinade and blot with a paper towel. Season both sides with salt and pepper, patting the salt and pepper into the meat. Grill on one side until seared (about 3 minutes). Flip and grill for another two minutes (rare to medium-rare). Remove and let the steak rest for two minutes. Finally, return meat to the grill and cook for one more minute on each side. Remove from grill and let it rest for a couple of minutes before slicing.
To Serve:
Drizzle a tablespoon of EVOO over the sliced steak and sprinkle with sea salt (to taste). Place a bowl with the chimichurri sauce nearby.
---
The abundance of fresh tomatoes from the garden, along with the prolific basil makes this super easy to make summer-time salad a hands-down company favorite.
Easy-Peezy Caprese
Ingredients:

Tomatoes (super fresh and beautifully ripened)
Mozzarella cheese (fresh, handmade is best)
Fresh Basil
EVOO (Extra Virgin Olive OIl)
Balsamic Vinegar
Salt
Pepper

Optional / Add-Ons:

Up to 1/4 of a Red Onion (thinly sliced into short slivers)
Prosciutto (thinly sliced)

Directions

Arrange the sliced tomatoes and mozzarella in a nice alternating pattern on the serving dish/tray. Place basil leaves on top of the cheese. Larger basil leaves may be torn into smaller pieces (do not cut with a knife -- this bruises the basil). Sprinkle with salt and pepper to taste. Drizzle EVOO over the arrangement, followed with a nice drizzle of the balsamic vinegar.

Added Options:

To give your Caprese a little boost, sprinkle a bit of thinly sliced red onion slivers over the salad. You can even add some slices of prosciutto -- depending on taste and desired amount.

Alternate presentation:
In lieu of tomato and mozzarella slices, use cherry tomatoes and mini mozzarella balls on toothpicks with basil leaves in between.
---
For our cataloger, Suzanne, summer cooking is all about ease. She shares her favorite, super easy Pesto Pasta Salad recipe. For this summertime dish, you have the option of using some store-bought pesto or, if you're one of those people with an overabundance of basil this year, make your own homemade pesto.
Pesto Pasta Salad
Ingredients:

1 lb Pasta (tubular, farfalle, etc.)
Cherry Tomatoes (sliced)
Avocados (cubed for garnish)


Dressing Ingredients:

1/4 cup Mayonnaise
1 jar Pesto (your favorite brand or homemade fresh basil pesto, see below)
Salt
Pepper

Directions:

Cook the pasta according to directions on the package. When pasta is done, drain and pour pasta into the bowl with the dressing.

While pasta is cooking, make the dressing. In a large bowl mix together mayo, pesto, and salt and pepper. Add cherry tomatoes. Gently mix well until all pasta tubes are well coated. Refrigerate.

Garnish with avocados just before serving.

Option:

Serve over a bed of mixed greens.
Homemade Fresh Basil Pesto
Ingredients:

2 packed cups Fresh Basil Leaves
1/2 cup Pecorino Romano or Parmesan-Reggiano cheese
1/2 cup EVOO (Extra Virgin Olive Oil)
1/3 cup Pignoli Nuts (pine nuts)
3 Garlic Cloves, minced
Salt (to taste)
Pepper (to taste)

Directions:

In a food processor, pulse the basil and pignoli nuts until chopped. Add garlic and cheese. Pulse several more times, scraping the the walls of the processor as needed with a rubber spatula. Run the food processor and slowly pour in a steady stream of the olive oil as the processor runs. Occasionally stop to scrape down the sides of the food processor, as needed. Process until pesto has a smooth, paste-like consistency. Salt and pepper to taste.

Use immediately or place in sealable jar and refrigerate for up to three days. You may also place in a freezable container and freeze for up to 1 year.
---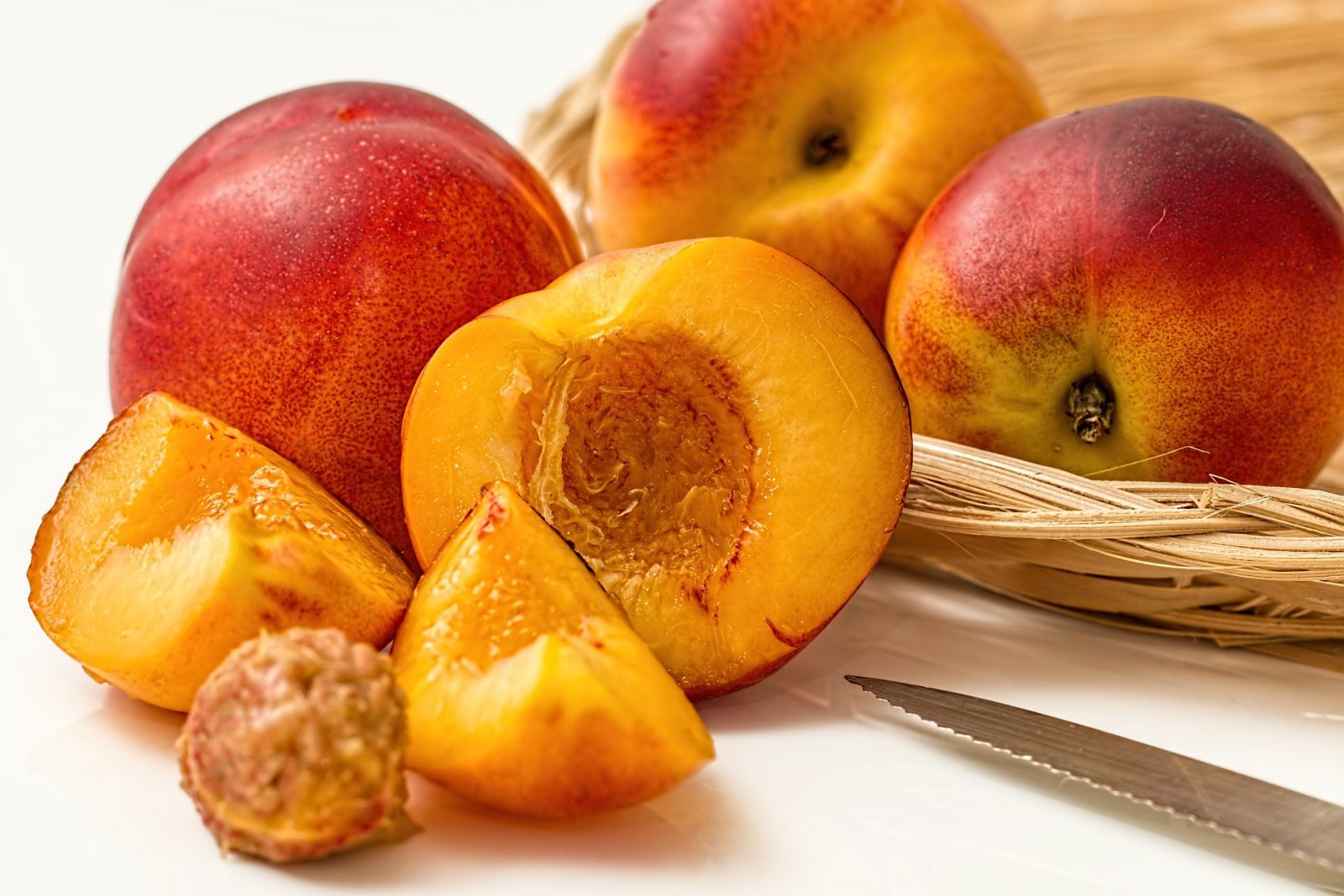 There's no better way to end a fine meal in the summertime than with an easy to make pound cake served with grilled fresh fruit -- namely peaches and nectarines. Pairing the sweetness of a pound cake with the caramelized sugars of grilled fruit is a delightful way to satisfy even the pickiest of tastes. Some of our staffers had variations of this tasty summer treat; for example using angel food cake instead of pound cake. Anyway you make it, adding fresh fruit with cake is a winning combination everytime!
Cream Cheese Pound Cake with Grilled Fruit
Pound Cake Ingredients:

8 oz Cream Cheese (room temperature)
3 sticks Butter (room temperature)
6 eggs (room temperature)
3 cups Sugar
3 cups Cake Flour (measure and then sift)
1 1/2 tsp Vanilla Extract
1/8 tsp Salt

Directions:

Preheat oven to 325º.

Grease and flour a spring-form round baking pan or bundt pan.

In a bowl, cream together the cream cheese, butter, and vanilla. Gradually add the sugar and salt. Mix until fluffy. Add eggs (one at a time) until well blended. Add flour (one cup at a time). Mix well after each cup is added. Pour batter into pan and bake for 90 minutes (or until done). Check with toothpick for doneness.
Grilled Fruit Ingredients:

An assortment of fresh, ripe Peaches and Nectarines
Olive Oil
1 tsp Sugar

Optional:

Balsamic Vinegar (for glaze)

Fruit Directions:

Clean and preheat grill.

Slice fruit into halves (quarters for really large fruit) and remove pits. Be careful to ensure that fruit slices are large enough to not slip through your grill's grates.

Brush cut ends of fruit with olive oil.

Depending on sweetness of fruit, you may add a light sprinkling of sugar over cut ends. (This will also aid caramelization during cooking.)

Place fruit, cut side down, on the hot grill. Grill until soft and nice grill marks appear on the cut sides. Remove from grill and place on a dish and cover with aluminum foil. Allow to cool for several minutes. Fruit juices will collect in the bottom of the dish -- save to drizzle over dessert.

Assemble cake slices with grilled fruit on dishes. Drizzle extra fruit juices over cake and fruit. You may also drizzle some homemade balsamic glaze for a little extra depth of flavor.

Optional Balsamic Glaze:

In a small saucepan, gently boil the balsamic vinegar until it reduces to a nice syrupy glaze. Be watchful that you don't burn the vinegar as it boils. Let it cool until just warm and drizzle over cake and fruit slices.
What are your favorite "go-to" end-of-summer recipes? We'd love to share your family favorites with our BRG fans.
Keywords: summer, recipes, summer fun