What Everyone Must Know About Native American Jewelry

On the Auction Block | PUBLISHED 07.19.19 | Christie Spooner & Jennifer Ventresca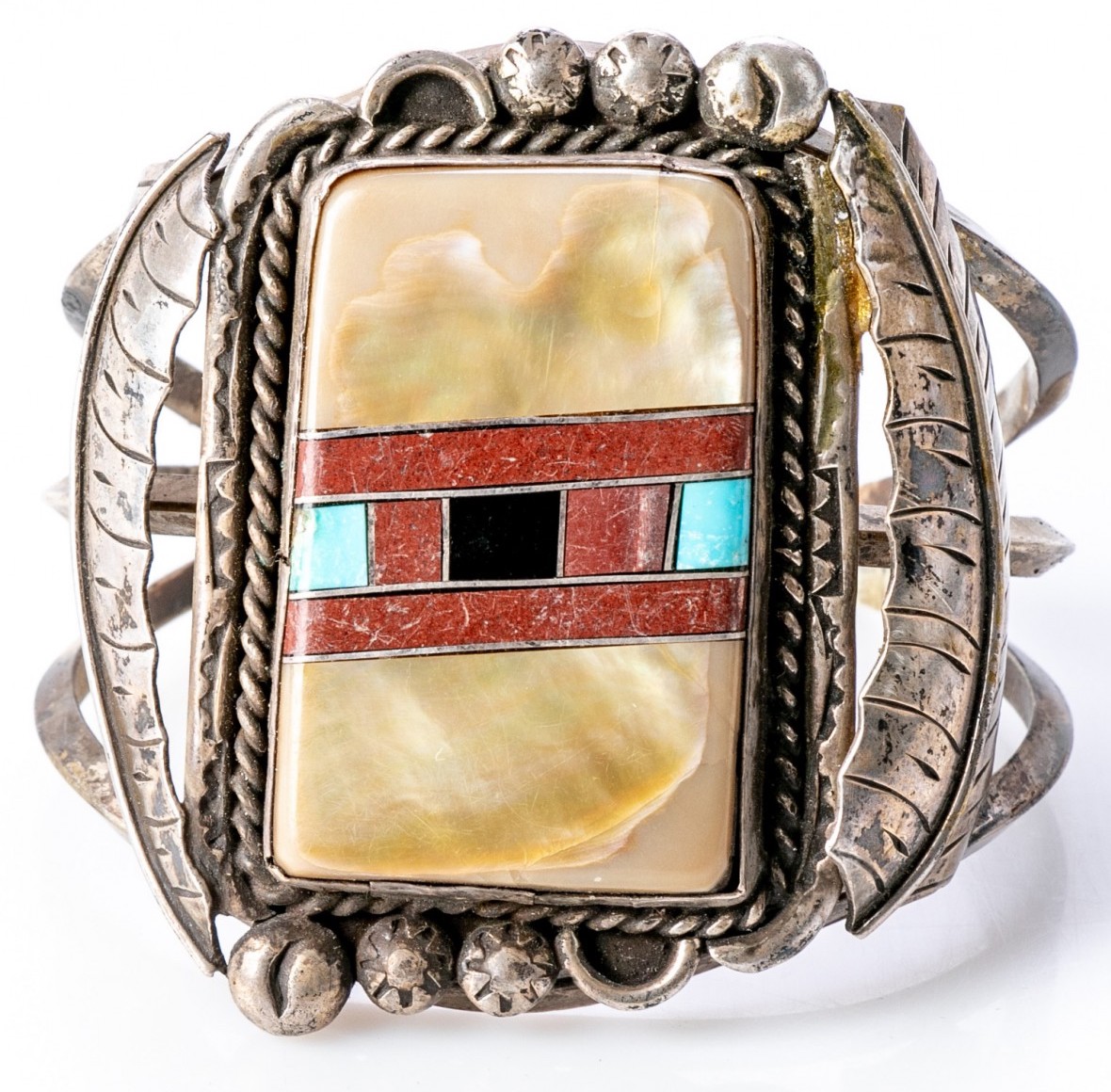 Rich corals. Dramatic blue and green turquoise. Beautifully crafted copper and silver work.
For millennia, the magnificent history of Native American Indian tribal jewelry making has been passed down from one generation to another. There is a wealth of evidence showing that native jewelry making dates as far back as the Paleo-Indian era (around 8,800 B.C.) when craftsmen used stone "drills" for shaping stones and shells into jewelry pieces. To this day, this rich history of jewelry making spans the entire country, from the great southwest Pueblo tribes to the Eastern Woodland Indians of the northeast.
Today, the majority of jewelry pieces we're highlighting are of southwestern origin.
Types of Jewelry
The breadth of jewelry crafted by Indigenous American people is extensive. Typically, jewelry consists of bracelets, necklaces, earrings and rings. (Later on we'll even throw-in some belts ... just because we can.) Using items that were (and are) readily available, some of the numerous materials used in Native American jewelry might be sourced from:
turquoise (often represented in jewelry for the sky and cherished by many for a spiritual connection to Mother Earth);
coral and shells (mother-of-pearl, oyster, conch, and clam);
precious and semi-precious stones (including turquoise, garnet, and gaspeite -- a rare mineral with a distinct yellowish-apple-green to bright green coloration);
animal bones, teeth, antlers, feathers, quills, and hides;
copper (primary metal used until the introduction of silversmithing).
Craftsmen transform and manipulate these natural materials into beautiful jewelry for both personal adornment and ceremonial significance. In addition to decoration, Native American jewelry was generally used to signify the wearer's social status.
Traditionally, Native Americans used copper in the earlier years of jewelry making. It wasn't until more "modern" times (circa 1850s) that indigenous Southwestern peoples learned silversmithing. Eventually, they began to craft their designs using this new medium. After the introduction of silversmithing, Native American jewelry became a large and valuable asset in the trade economy as many southwest tribes transitioned from a trade or barter-based society to a more merchant-based society. By the turn of the 20th century, Native American Indian craftsmen of the Southwest began selling their silver and turquoise jewelry to tourists.
Here is an overview of some of the traditional types of Native American jewelry pieces you might find.
The Squash Blossom Necklace
Perhaps the most ubiquitous pieces of Native American jewelry is the squash blossom necklace. It is generally crafted in silver and turquoise consisting of round silver beads interspersed with beads that appear to be blooming -- all leading down to what looks like a horseshoe. The "horseshoe" is really what is known as a Naja which was created for protection and warding off the evil eye.
The complexity of the squash blossom necklace design was also an indication of the wearer's social status and wealth -- the more elaborate the necklace, the higher the person's status.
a fantastic Navajo sterling silver squash blossom
necklace with turquoise stones | item #105242
Highlights of the Native American and Western Estate Collection include a wonderful assortment of squash blossom necklaces, several of which are crafted with antique American silver coins. Native American jewelry makers would dome the silver or mercury coins and then solder them together to make a silver bead. This was common practice among Native Americans until the American government decided they did not want their currency used in jewelry and banned the practice.
a substantial silver Native American Barber dime
squash blossom necklace | item #105346
Other Necklaces & Pendants
In addition to the renowned squash blossom style necklace, Native American necklaces come in many other styles. Like so many handicrafts, artisans use natural elements in their designs -- bones, stones, feathers, etc.
For instance, this substantial necklace (below) has carved smooth tubular bone segments separated by sterling silver beads. It also has seven intricately carved sterling silver feather-form drops with oval turquoise stones set in the top portions of the drops. The main central medallion is comprised of three feather-form drops. This makes for a beautifully executed necklace, which was actually signed by the original craftsman, "J. Two Feathers."
a substantial sterling silver, bone & turquoise
Native American necklace | item #105321
Likewise, this Native American choker style necklace has five strands of smooth carved graduated cylindrical bone pieces separated with sterling silver beads and leather / suede spacers. The central medallion is a large abalone shell shaped into a disc with additional beading, bone, and silver hanging on suede. In lieu of a clasp, this necklace features a mustard colored suede tie which makes it adjustable in size. Because of the opalescence in the abalone shell, the coloration of the central medallion changes in the light. Simply beautiful.
a Native American bone, sterling silver,
suede & abalone choker | item #105285
This large Navajo sterling silver bird-form pendant (below) is a true statement piece of jewelry. It features a large Royston turquoise oval stone (measuring 1 3/8" in height) highlighting the bird's body and a smaller side-eye stone all set in silver. This large medallion is accompanied by a silver large-link chain.
a large Navajo sterling silver pendant
with turquoise stone | item #105255
Yet another example is this substantial (measuring 2.5" w x 3" l) opposing double bear claw and pear shaped number eight turquoise pendant mounted in sterling silver. Notice the greenish blue tones and a golden brown matrix set in the silver. Stunning!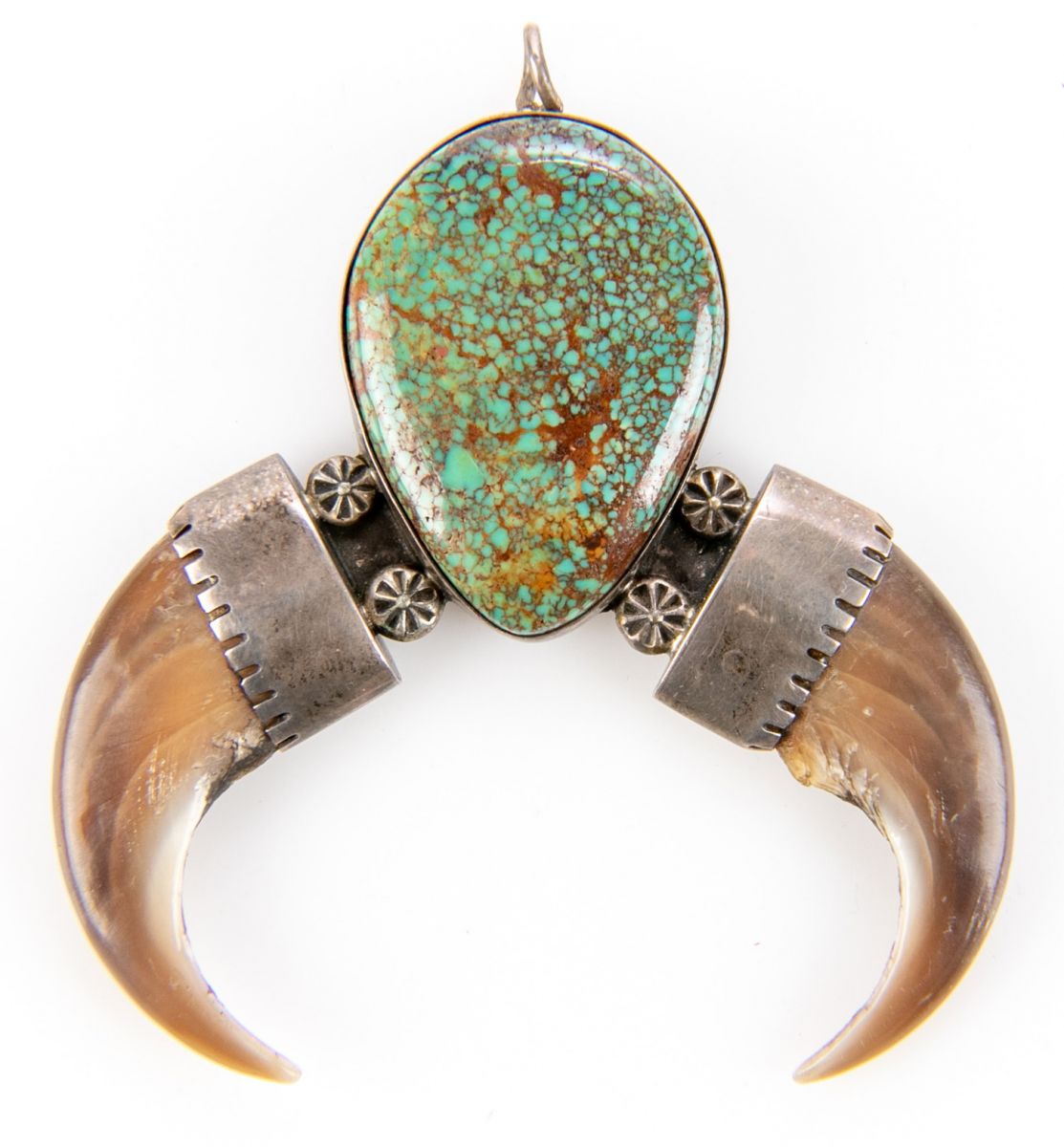 a large double bear claw & turquoise
pendant mounted In sterling | item #105256
Cuffs
Another wonderful element of Native American jewelry is the cuff bracelet. Some are bold, chunky pieces while others or more delicate in sizing and design. The cuff bracelet is a wonderful platform for Native American jewelry craftsmen to display intricate designs. The broad surface of a cuff is ideal for incorporating a variety of stones, metals, and materials into a meaningful piece and enables the artist plenty of room for creative freedom.
a Navajo sterling silver cuff bracelet with
turquoise, coral, & bear claw | item #105294
Highlights of the Native American and Western Estate Collection include a great collection of cuff bracelets featuring different materials and designs. Most of the bracelets in this sale are of Navajo style with signature features including silver leaves, flowers and beads, as well as the turquoise and corals commonly found in southwestern jewelry.
a substantial Navajo sterling silver & green
turquoise cuff bracelet | item #105259
As mentioned earlier, there are more "delicate" cuff styles, like this antique (circa 1900) Navajo sterling silver graduated cuff bracelet by Fred Harvey Co. This particular bracelet has an oval shaped turquoise stone at its center with a silver beaded surround.
an antique Navajo sterling silver cuff
with turquoise | item #105327
Examples of Hopi overlay jewelry are in the sale as well. In this style, the Hopi would take two similarly shaped pieces of silver and carve traditional designs into the top silver layer. The silversmith would oxidize the bottom silver layer so that it would turn black, and then solder the top layer to the blackened bottom piece, letting the design show through.
For example, take this fine Hopi style sterling silver cuff style bracelet (below) which has three applied 14K yellow gold bears at center, while the remainder of the bracelet has beautifully cast decoration with an oxidized base layer.
a Hopi sterling silver & 14K gold cuff
bracelet |

item #105314
Zuni Fetishes
The Zuni are most known for their intricate stone work, with animal-themed fetishes being the most widespread. The collection at BRG has a nice representation of this style of Native American craftsmanship. These carved fetishes were sometimes made into interesting jewelry pieces as seen here….
a beautiful beaded Zuni fetishes necklace | item #105263
... Or they were a little larger and made as an object of virtue. Like most Native American tribes, the Zuni people have a strong connection with the earth and nature. Animals are held in high regard and, generally, each has its own unique significance from a spiritual perspective. It is thought that in order for the owner to harness the benefits of the animal the fetish represents, one must nurture the animal spirit by revering, feeding and caring for the fetish.
The Native American and Western Estate Collection also features a small collection of Zuni fetishes.
Some owners (caretakers) empower and nurture the fetish's animal spirit by placing it in a bundle with shells, stones, or arrowheads. The creator of the fetish may also add special features such as a carved or inlaid "heartline" or "lifeline," which is an arrow-shaped line that starts at the animal's mouth where breath and life begins, and ends at the animal's soul or spirit where it stores its faith and inner strength.
Belts
Expanding the jewelry into fashion accessories, this collection also offers a handful of concho belts. If you're noticing the word "conch" in concho, you're not off-track. The concho (or concha) belt derives from the Spanish word for seashell, "concha." And since the overall adornment of this type of belt is that of a shell-shaped form, the Navajo coined it "concho belt."
Actually, sources indicate that this style of belt originates in the Plains region and was introduced to the Navajo in trade and through raids, while others suggest that its origins are based in Mexico. Either way, the Navajo adopted the concho belt into their culture and by the middle of the 19th century, donning a concho belt became a long-standing Navajo tradition.
In the earliest concho belt years, the Navajo used silver coins which were manipulated into hammered shapes with slots cut into them to accept strapping (leather, cording, etc.). Eventually, the backs of the concho were fitted with "loops" of copper so the strapping could slip through the back. Today, conchos might have leather strapping or they may be linked together with rings.
a vintage Navajo sterling silver concho belt | item #105351
The Navajo sterling silver concho belt (above) has ten conchas with a single small turquoise stone in each and is strung together on a black leather band.
The concho belt (below) features both mercury dimes and Walker half dollars. Each concho has a single Walker half dollar surrounded by eight Mercury dimes, along with sixteen small beads, all mounted to a sterling silver base. The buckle concho has five Walker half dollars with 32 silver beads, all mounted to the silver concho base. All of the conchas are strung onto a brown leather band.
a substantial vintage silver concho belt with
mercury dimes & Walker half dollars | item #105349
Likewise, this substantial (and AWESOME!!!) Native American concho belt (below) features seven oval shaped conchas having a beautifully executed detailed round pattern throughout. The buckle features additional detail work in a different pattern. All are attached to a black leather belt. Did we mention that this belt is awesome?
a HEAVY gorgeous vintage Native American
Navajo concho belt | item #105350
Origins
Black Rock Galleries is please to offer a lovely collection of Native American jewelry pieces hailing from an estate in Yonkers, NY that includes antique, vintage and modern pieces mostly hailing from southwestern craftsman of the Navajo, Zuni and Hopi tribes.
The estate is a lifetime collection of Native American artifacts, jewelry, handicrafts, and more and was born of an "old world" Bronx naturalist whose passion with the culture and plight of Native Americans (since boyhood) strongly influenced his studies, outdoorsman and huntsman activities, and hobbies. As a regular visitor and participant of Native American powwows, this gentleman befriended many tribal artisans and craftsmen who either gifted or sold many of the pieces in this collection to him. In fact, more than a few of the jewelry pieces in this collection were custom designed for the gentleman.
If you are a collector of authentic Native American artifacts and handicrafts, an enthusiast of history, or someone simply looking for truly unique pieces to round out your design aesthetic, this is the ideal collection for you to bid upon. Peruse the estate collection here.
What Tribes are Represented in this Collection?
Navajo
The Navajo people inhabited much of the "Four Corners" of the Colorado Plateau long before European explorers landed on the continent. The Navajo culture is steeped in spiritual traditions and is closely linked to maintaining balance/harmony with Mother Earth. Additionally, the number four plays a significant role in traditional Navajo philosophy -- four directions (north, south, east, west), four seasons, four sacred mountains (Mt. Blanca, Mt. Taylor, San Francisco Peak, and Mt. Hesperus), and four colors (white shell, turquoise, yellow abalone, and jet black). Interestingly, the four colors represent the four directions (east, south, west, and north respectively). In the jewelry world, the Navajo are perhaps best known for their silversmithing -- which was introduced to them by the Spanish and Mexicans in the mid 1800s. Shortly thereafter, its commonly believed that the Navajos began working with turquoise -- which has added spiritual and ceremonial importance.
Zuni
The Zuni people have inhabited the American southwest for millennia. In addition to being rooted culturally and spiritually by their deep ties to nature — mountains, rivers, forests, and desert — the Zuni express their cultural traditions through their art — jewelry, fetish carvings, pottery, and painting. Jewelry making, in particular, has become an important source of income for the people.
Hopi
The Hopi people (short for Hopituh Shi-nu-mu or "peaceful people") have inhabited large areas of the American southwest for millennia — originally spanning territory in what is commonly known as the American "Four Corners (southeastern Utah, southwestern Colorado, northeastern Arizona and northwestern New Mexico). The Hopi people adhere to deep ties to religion, spirituality, and morality which is rooted in total respect for and peace with all things. Modern day Hopi use their rich cultural customs and heritage in their artisan handicrafts including the carving of Kachina dolls, pottery, and jewelry-making (particularly sterling silver craftsmanship).
So, if you're looking for a bold, fun and hand-crafted piece of jewelry consider authentic Native American pieces.
---
Research Resources:
Native American Indian Facts, The Wandering Bull, Discover Navajo, ASHWI, The Hopi Tribe
---
Keywords: Native American, Sioux, southwestern, southwest, coral, turquoise, silver, pow wow, Navajo, concho, Hopi, cuff, bracelet, necklace, arrowhead, Zuni, Crow, American Indian, Native, Indian, jewelry, sterling silver, hand crafted, handmade jewelry, concha, squash blossom