Browse
Top Care & Storage Tips for Your Vintage Designer Handbag

Jewelry & Fashion | PUBLISHED 11.01.21 | Courtney Tannler
Gucci. Louis Vuitton. YSL. Prada.
Chanel. Fendi. Dior. Burberry.
You've just treated yourself and bought an expensive designer handbag — either through retail or secondary markets such as at an online auction for designer fashion accessories (such as the Estate of Former Supermodel Kathy Speirs-Puccio High Fashion Sale) or a high-end designer thrift shop. Whether it's your first large purchase or a new addition to your vintage collection, it was an investment and you'll want to treat it as such. Without proper TLC, your bag will show its age and wear before you know it.
"Designer bags, whether vintage or new, should be cherished and kept in pristine condition. Vintage handbags especially as they have been through years of use which means dirt, scuffs and possible rips and tears." — Diana Zola of Nina Zola
Follow these care and storage tips to extend the life of your new shoulder buddy.
CARE
Clean it regularly.
Do your research. Figure out what material your bag is made of (leather, animal skin, suede, or another fine fabric) — both inside and out. Find wipes or other cleansing options that are specifically formulated for the material (for example leather-safe and suede-friendly) and use these to clean the purse daily.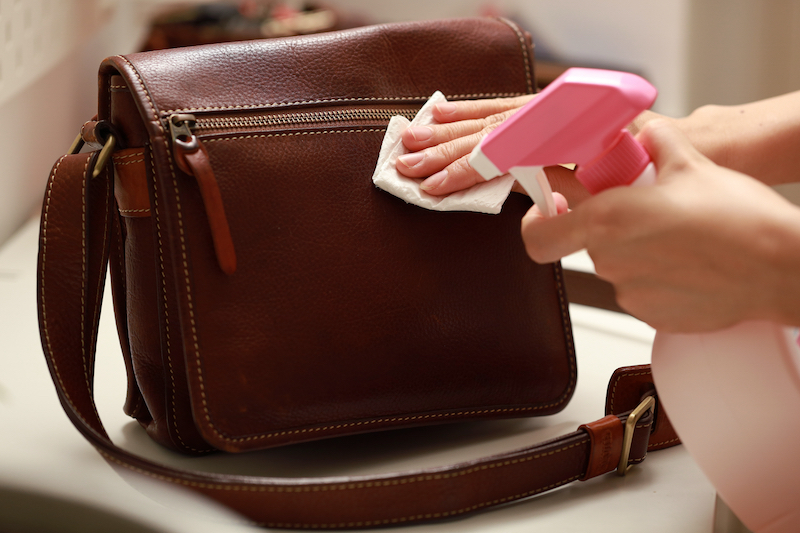 Experts on different materials can provide useful tips for cleaning each material. In particular, Jod Kapilakan, of AbundanceNoLimits suggests the following tips for suede, leather, and silk:
Suede: You can clean suede by brushing it with a gentle brush or a thick towel in an upward direction.

Leather: You can clean your vintage leather bag with either the saddle soap or leather cleaner (just a bit) and rub it in a circular motion. After it dries clean and shiny, take some leather moisturizer on a soft cloth and rub circularly just like you did while cleaning it.

Silk: Silk is one of the most delicate and beautiful fabrics ever. To keep it clean, you have to be extremely careful. If you want to clean the silk bags, mild detergent and lukewarm water are enough. Dip it in and soak for some time. Do not machine-wash the silk.
Use a quality leather/suede protectant.
When you first purchase your designer handbag, find out what material it's made of. If the handbag is made of leather or suede, purchase a quality leather or suede protectant (sprays are easiest). Spray it over the bag per the instructions on the can before use to avoid potential damage. You can usually find a variety of leather protectants at your local fine shoe store or online.
Added hint: you may want to clean and condition any leather (using a quality leather cleaner and conditioner) before using any protectant.
"The best way to clean a vintage leather handbag is to wipe it with warm water mixed with a mild dish soap using a very soft cloth. Do not use anything that could scratch the leather. For old, tough stains you can use baking soda to soak up any grease or oil and then wipe off with warm water. Once your purse is clean, it is wise to protect it with a leather sealant to help prevent it from drying out.

If your handbag is suede, you need to be extra careful. Suede does not mix well with water, so use a dry brush or cloth to wipe away any dirt. A small amount of vinegar or rubbing alcohol can help to get rid of stains as they will not leave any watermarks." — Diana Zola of Nina Zola
Watch what you put inside.
If you're going to put pens in your bag, make sure they're capped. Don't leave a click pen in your purse unless you want random scribbles to appear on the fabric lining inside. That said, avoid cosmetics too — a tube of mascara should be fine, but blush or eyeshadow could easily open up and create a colorful, powdery mess. Lipstick, if uncovered, can also be a nightmare to clean if it gets all over your bag's interior. You should be careful with lotions as well. These, too, are prone to unexpectedly opening. The last thing you want is an oily mess inside your new purchase.

"The inside of the bag might need cleaning too depending on the type of material. Using a small handheld vacuum or lint roller will help to get any hair or dirt from the inside of the purse. Then use the same mixture of warm water and dish soap to wipe inside. Let it dry completely before using it again." — Diana Zola of Nina Zola
Avoid over-stuffing.
Be selective about what you place inside your vintage handbag or purse. Don't overfill it or cram in "one last thing." Regardless of the size of the bag, keep your load to a minimum. This will help maintain both the shape of the bag and extend the the quality and functionality of the straps, prolonging your bag's newness.

Promptly fix problems.
If the bag gets a stain, tear, or any other sort of damage, don't fret. It happens to the best of us. However, don't wait until it gets worse to fix the problem. Remember the adage, "a stitch in time saves nine." Take the bag to a tailor or seamstress, dry cleaner, cobbler/shoe repair shop (yes, many cobblers are quite adroit in fixing leather handbags), or other professional to resolve the issue before it has the opportunity to worsen.
Embrace the history.
At a certain point, there's only so much care you can give your treasured handbag. Embrace the natural wear and patina that develops as time goes by. It becomes your bag's story, its legacy. Although the bag may not look brand new forever, the natural aging which occurs from normal use on its many adventures is just as beautiful.
STORAGE
Avoid hanging it.
If you can, avoid hanging your new bag on hooks or hangers when it is not in use. Instead, place it upright on a shelf or other flat surface. Otherwise, you risk speeding-up the wear and tear of the handles or strap on your bag, as well as place unnecessary stress on the strap itself.
"Once the bags are clean and treated, store them in a room temperature environment, away from sun and too much moisture. Do not store them in a basement or storage facility and instead opt for a closet or box." — Diana Zola of Nina Zola
Keep its shape.
There's nothing worse than a saggy, misshapen bag. So help your vintage handbag keep its original shape by carefully stuffing it while you're not using it. If your purse is on the larger side, roll up a couple of sweaters or sweatshirts and carefully place them in the bag so it keeps its shape. On the other hand, if your bag is smaller, gently stuff it with some tissue paper or a small t-shirt. Even a winter scarf could work here.
The key is taking care to not overstuff your prized bag — you want to maintain the shape, not stretch out nor distort your new investment.

Use a cover.
If you're buying a new designer handbag or purse from a retailer, the designer will most likely provide a dust cover bag along with it (take a peek at the Gucci bag at the very beginning of this blog with its own storage bag). Designers provide it for a reason. Use it.
If the bag was consigned or purchased second-hand, you can purchase a generic dust bag of your choice at a variety of retailers such as the Container Store, Sleeper Bags, and even Etsy. Another alternative? Cotton pillowcases work just as well. Store your handbag in dust covers avoid premature aging caused by sunlight, moisture, dust, and other natural contaminants normally found in any home. Be sure that your storage location is dry.
That's it. Following these simple tips can help you extend the life of your favorite vintage designer handbags and purses. If you have any tips that have worked for you over the years, we'd love to hear about them.
---
About the Contributors:
Diana Zola is the owner of Nina Zola, a boutique specializing in silver and leather based in Australia. Follow on Facebook (@ninazolabrand) and Instagram (@ninazolabrand).
Jod Kapilakan is the CEO of AbundanceNoLimits.
Do your research. Figure out what your bag is made of- both on the inside and the outside. Find wipes or other cleansing options that are leather and suede- friendly and use these to clean the purse daily.
Keywords: Handbag, designer handbag, vintage handbag