Browse
Colored Diamonds of April ... Oh, So Pretty

Jewelry & Fashion | PUBLISHED 04.15.21 | Susan Leeper
When thinking of colored gemstones, diamonds are likely not the first to come to mind. However, did you know that diamonds come in a wide array of colors ranging from the common brown and yellow to the extraordinarily rare red diamond? They do!
How do these fabulous diamonds get their colors?
It's all in the Chemistry!
The causes of these color changes have to do with a small change in the chemistry, inclusions trapped within the diamond, or the geologic conditions in which the diamond had formed. Not only are diamonds a mineral, but they are also a natural element with a chemical composition of carbon (chemical formula: C). These carbon atoms bond creating a continuous crystal lattice, a diamond crystal.
Brown Diamonds
To start, brown diamonds are the most common colored diamond. The brown color is due to plastic deformation of the diamond's crystal lattice. Pressure exerted on the diamond causes the crystal lattice to deform and carbon atoms to be displaced or lost along layers called glide planes. It's along these glide planes that the brown color is concentrated.
Wearing & Collecting Brown Diamonds
Brown diamonds, which are fabulously named, and come in many shades (such as mocha, chocolate, cognac, espresso) are more available and attainable. We have several great examples of them in our current "April is for Diamonds" auction (available through April 25, 2021). A beautiful illustration of cognac diamonds is item #150190, the quatrefoil shaped ring with the cognac stones in the center, surrounded by a trim of white diamonds. Another stunner, is item #156309 with a nice mix of marquise, pear and trillion shaped white and mocha diamonds set in white gold. Either ring would be an excellent addition to any jewelry collection.
Yellow Diamonds
The second most common-colored diamonds are the yellow diamonds. To create this yellow color a slight change to the diamond's chemistry needs to occur. An atom of nitrogen replaces a carbon atom within the crystal lattice. Only a small number of carbon atoms need to be replaced by nitrogen atoms to create the yellow color (not enough to change the chemical formula). The more nitrogen atoms that are present within the diamond, the greater the color saturation will be.
Wearing & Collecting Yellow Diamonds
Yellow diamonds, which are also extraordinarily accessible, are incredibly bright, and are truly fun stones! For instance, item #156307, is a gorgeous pair of multi-shaped and multi-color diamond cluster earrings, with light to dark shaded yellow diamonds (along with some mocha) ... and please do not forget to check out item #159874, an unusual (and gorgeous) pair of white and greenish-yellow diamond stud earrings with the intriguing rose gold button earrings with the pave set top of yellowish-green diamonds - they are truly captivating!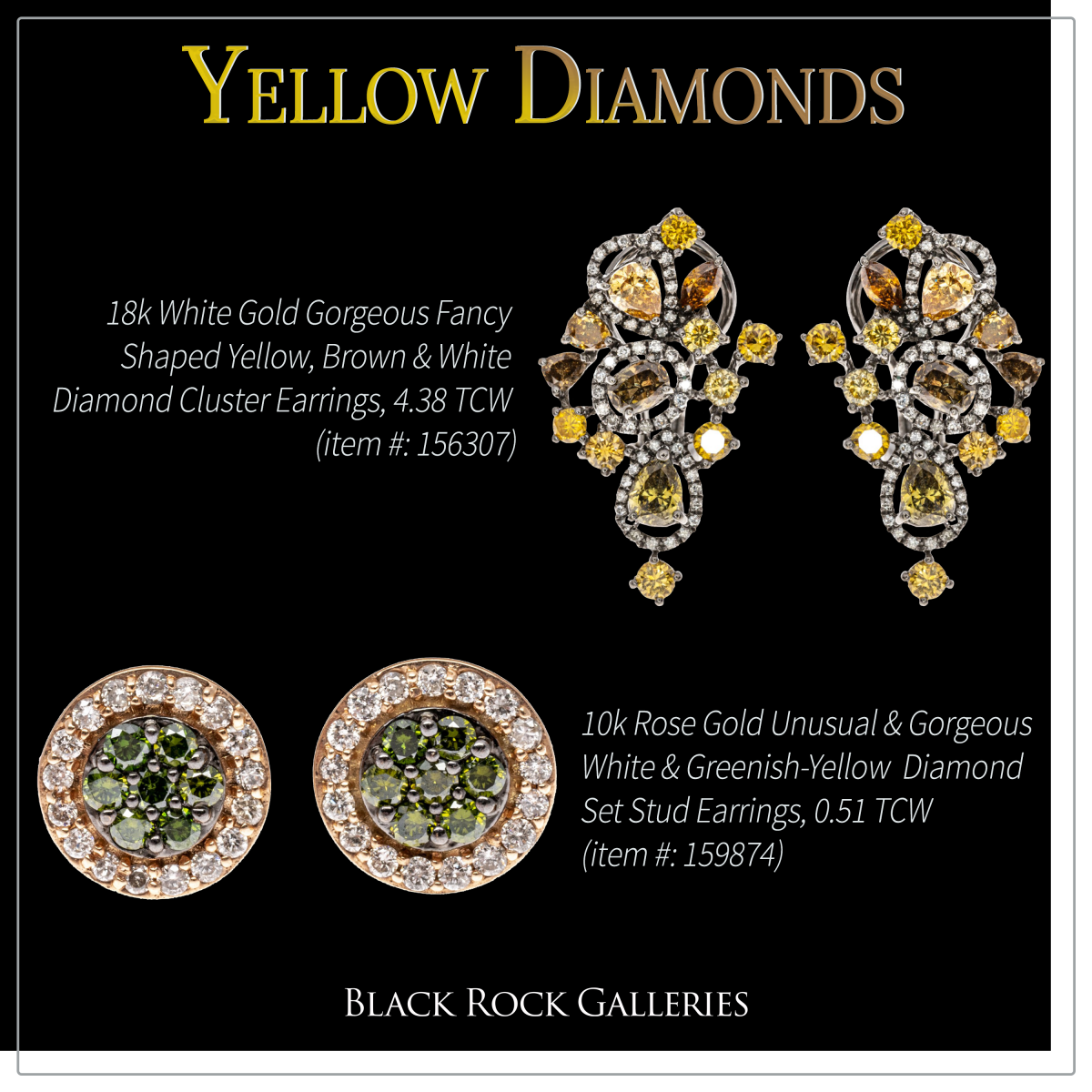 Blue & Purple Diamonds
Blue and purple (or violet) diamonds achieve their color in a similar manner. Purple/violet diamonds have hydrogen atoms replacing some of their carbon atoms. With blue diamonds, it is atoms of boron. The Hope Diamond (residing at the Smithsonian Institutes' National Museum of Natural History in Washington, DC) is the most famous blue diamond and an excellent example of good color saturation. Simply amazing.
Green Diamonds
The very rare green diamond (although not as rare as the red diamond) is created in a manner different from the others described. A green diamond gains its color from exposure to natural radioactive minerals present within its geologic environment. The radiation displaces carbon atoms along the outer edges of the crystal lattice, causing green wavelengths of light to be transmitted. (Green diamonds themselves are not radioactive.) Since the radiation only affects the outermost layers of carbon atoms, the more the diamond is cut and faceted the more color the stone may lose.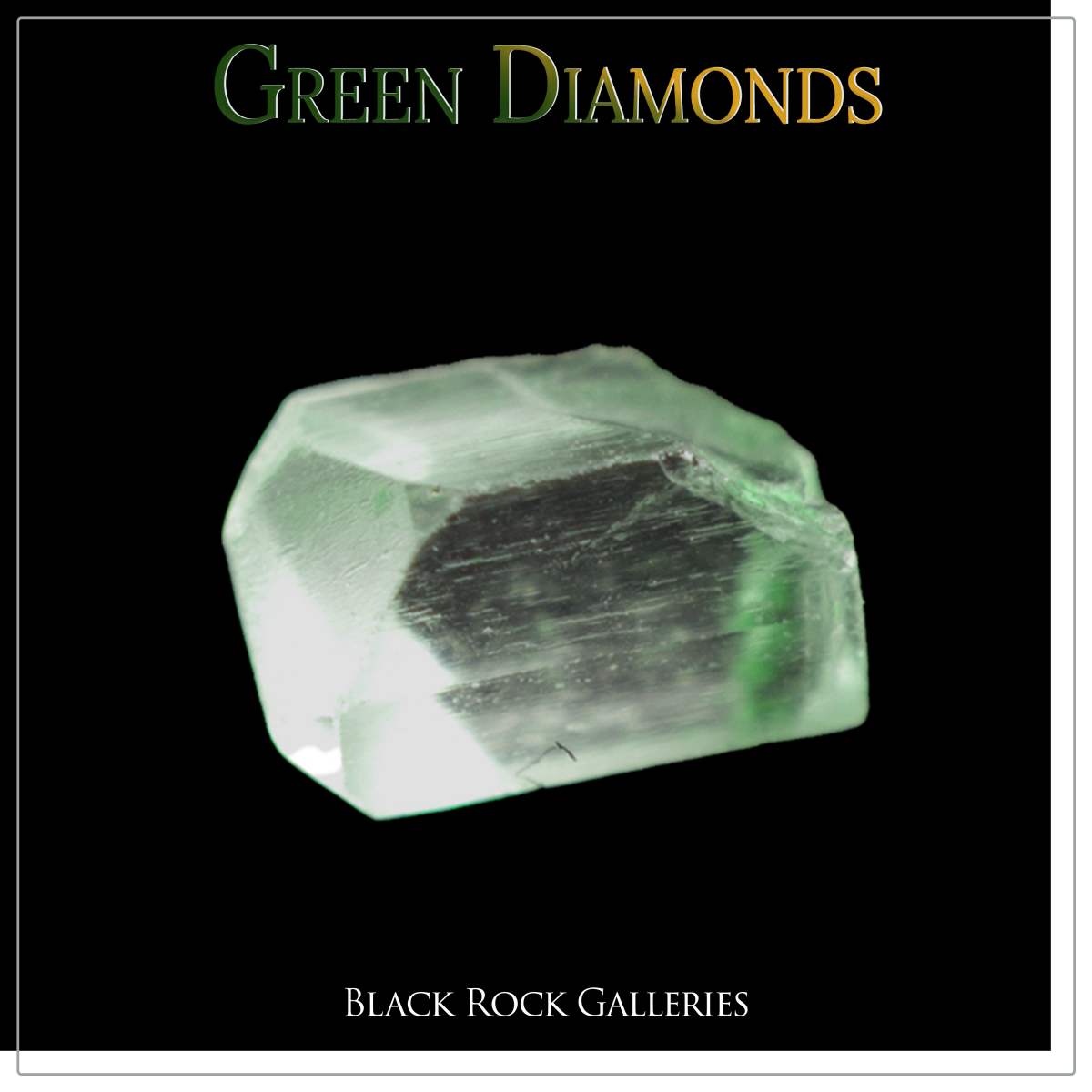 Red & Pink Diamonds
Pink and red diamonds are the rarest diamonds. Pink diamonds have been subjected to large amounts of stress that caused the crystal lattice to deform and the carbon atoms to become displaced. The pink color is concentrated along the glide planes (same as the brown diamond) and can, in some cases, be viewed as parallel bands of color. If the color transmission is stronger, a red color will be transmitted. Red diamonds are by far the most rare color of diamond, as there are less than thirty true red diamonds that have been found.
Wearing and Collecting Red, Pink, Purple, Green, & Blue Colored Diamonds
So what does all of this mean in terms of wearing, and collecting diamonds with color?
Well, true red, pink, purple, blue and green diamonds are usually investment pieces. These are generally stones that are never set or worn, but rather sit in a bank vault — unseen and unused. But, we are of the mindset that if you ever have an opportunity to purchase, borrow, or wear one of these rare diamonds -- take it!
Select Past Offerings of Colored Diamonds
Our team has been fortunate to work with a multitude of white and colored diamonds over the years coming to us in the form of consigned estate, antique, and heirloom jewelry. Some of our favorites include really stunning specimens of yellow and brown diamonds. Here is a small sampling of colored diamond jewelry pieces offered in past sales....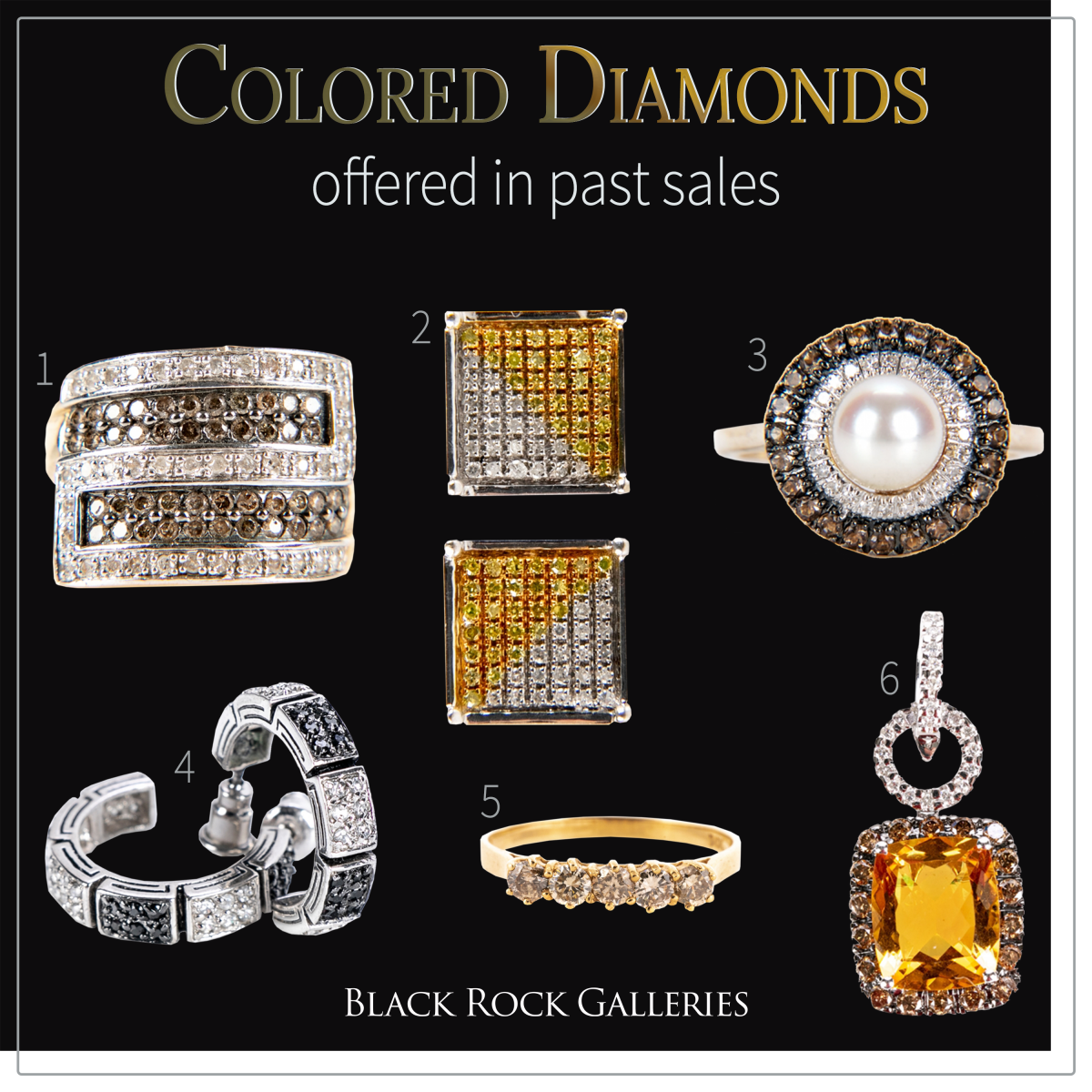 1. Stunning white & mocha diamonds in 10k white & yellow gold setting (Item #100510)
2. Pave & yellow diamonds in 14k white & yellow gold (Item #103808)
3. Beautiful pearl & diamond ring surrounded by a two rows of white and chocolate diamonds set in 14k yellow gold (Item #123543)
4. Sterling silver demi hoops with chocolate diamonds (Item #154555)
5. 14k yellow gold warm cognac diamond band ring (Item #157907)
6. A gorgeous 14k gold pendant with 5.54 CT faceted rectangular citrine gemstone surrounded by brilliant cut fancy yellow diamonds suspended from a diamond encrusted bale (Item #154789)
We invite you to find your diamond look in our "April is for Diamonds" online auction closing on Sunday, April 25, 2021. Previews are available by appointment. Please call our jewelry department at 203-335-0000.
---
About the Contributing Writer
While Susan Leeper originally began her career at BRG as a jewelry department intern, her passion for gems and jewelry acumen quickly accelerated her position to gemologist. Sue has a bachelor's degree in Earth Sciences and a minor in Biology from Southern Connecticut State University. As part of her degree work, she took a class in gemology which piqued her desire to learn more about the field. She is helping BRG's jewelry department expand its capabilities and service offerings.
---
Keywords: Diamond, diamonds, black diamond, colored diamond, April, birthstone, brown diamond, mocha diamond, cognac diamond, chocolate diamond, yellow diamond, green diamond, red diamond, purple diamond, pink diamond, the hope diamond, jewelry, fine jewelry, diamond jewelry, heirloom jewelry, antique jewelry, estate jewelry