Seven Staff Picks from the Nautical Collection

Design & Decor | PUBLISHED 04.09.19 | Jennifer Ventresca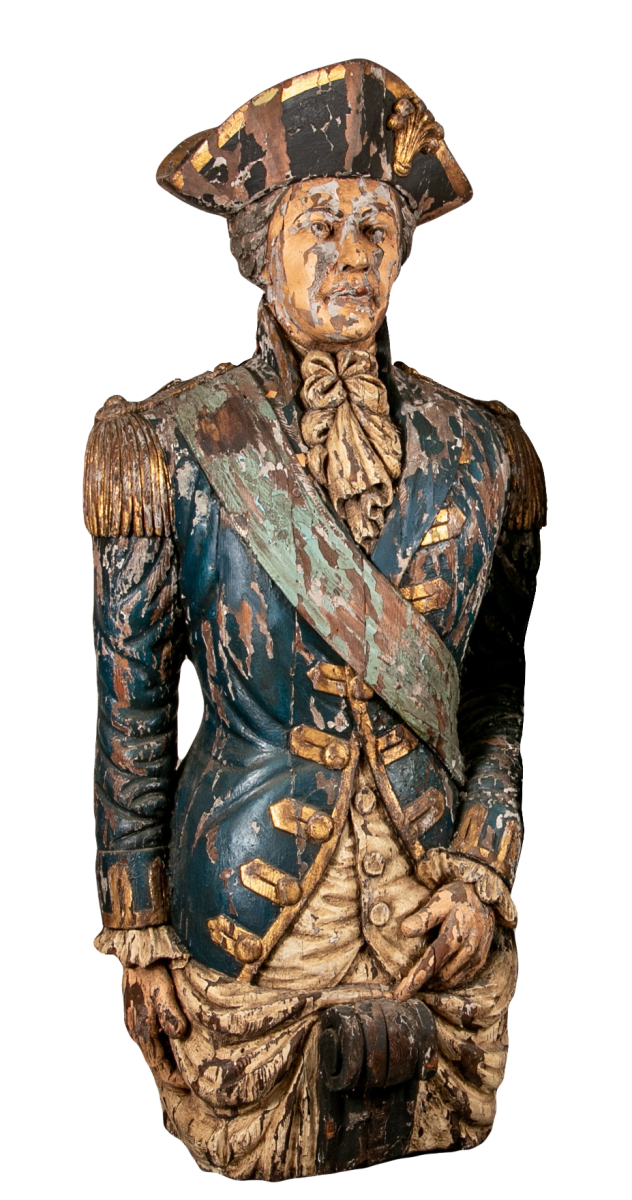 Some of our showroom regulars have been eyeing one of the showroom vignettes over the last couple of weeks. The BRG team has fielded countless questions about when the sale will be ready to launch, all while working diligently to photograph, inventory, price, and display this cache of mostly antique pieces. One thing we learned in the process is that our customers are passionate about this nautical collection, as is the BRG team. The pieces in this sale are rare articles that hail from a single owner's lifetime collection.
The "Lord Nelson"
Of course we need to begin witheveryone's favorite piece — the regal and impressive antique British ship's masthead of Admiral Horacio Lord Nelson (item #94799) from the running. (Otherwise this would be a VERY brief blog piece!)
We should mention that this fine massive and elaborate 18th/19th century English, beautifully hand-carved, gesso and paint decorated masthead of the famous Admiral Horatio Lord Nelson is impressive. He is dressed in an official gold-accented blue naval uniform with his appropriate uniform hat and light blue sash. This masthead is an important all-original condition piece of a ship's outfittings with superb wear including overall even wear to its paint revealing incredible weathered wood beneath. Most mastheads of this size and nature never survived the test of time. This one is special because it has.
Who was Lord Nelson? Lord Nelson (1758-1805) was an English commander in the Royal Navy. Known for his exceptional strategic and unconventional tactics, he was responsible for a number of decisive naval victories during his service. Having seen multiple tours of combat, Lord Nelson was wounded several times including the loss of eyesight at the age of 36 in the battle of Corsica and most of his right arm at the age of 40. Nelson was killed in action at the age of 47 during the Battle of Trafalgar, the battle which lead to Britain's victory over the French during the Napoleonic Wars.
Staff Picks:
Roger's Gloucester Coast:
A colorful 20th century oil on canvas by Bertha Walker Glass (American, 1879-1971), depicting a fishing boat in a harbor(item #94861).
"I just love this one! To me, even though the scene is likely a Gloucester [Massachusetts] setting, it's very similar to the "Pont-Aven" school of painting of Brittany—sort of Gauguin in style. If I could take anything home with me today, it would be this piece."
The painting is a colorful textured work with a fishing boat moored at a dock on a sunny day with the town in the background — perhaps the fishing hub of Gloucester, MA itself. All presented in a gilt frame.

Grant's Half-Wheel:
The antique Williamson Brothers inlaid half ship's wheel (item #94802)
"Thishalf wheel is made of really beautiful specimen wood with an incredible patina. It also is a great scale for decorating just about anywhere — a perfect piece for layering on a mantle above a fireplace or on a console table in the hallway."
This antique ship's wheel is made of mahogany and features a fine pattern of other wood inlays. It has a brass center, turned spokes, and one ridged grip. It is marked on a brass roundel, "Williamson Bros. Co. Phila. Pa."

Michael's Calming Tempest:
The 19th century China Trade painting depicting the SS China of the Pacific Mail Steamship Co. (item #94862).
"When I look at this painting, I sense the tension and relief of the passengers and crew as they sail out of the dark, ominous tempest towards clearer skies and (hopefully) calmer seas. The artist's juxtaposition of light against dark is brilliant."
The SS China, garnishes American and English flags while crossing through turbulent waters with a dark and stormy sky leering overhead is mounted in an early 20th century gilt frame. This painting comes with its original receipt affixed to frame verso.
According to theMaritimeHeritage Project, the SS China was over 440' long and served on the trans-Pacific route from 1889 until 1915, when it was sold. Originally built for the Pacific Mail Steamship Company, this SS China sailed from San Francisco to Yokohama and Hong Kong. Eventually, the ship was used for transporting American military during the Spanish American War in 1898 and was registered to the United States at that time. Undergoing a major overhaul in the turn of the century, the SS China re-emerged as a passenger ship sailing the same route (with the addition of Honolulu, Kobe, Nagasaki, and Shanghai) under the China Mail Steamship Company until 1923.

Suzanne's Soldier:
A 19th century portrait of a Hussar in an elaborate uniform (item #94866).
This oil on canvas painting (c. 1850s-1870s) depicts a soldier wearing a tight fitting dolman jacket decorated with gold braid trim. He holds his sabre and helmet, as he stands in a landscape.
"I can't figure out if this handsome, elegant officer is French or Italian, but I'm going to guess he's Italian, because of his ornate uniform. I LOVE this painting. He's just so handsome and distinguished!"
What is a Hussar, you ask? Hussars were members of various European military units who were modeled after the 15th century Hungarian light cavalry. Hussars were often employed as scouts for the regiments they served. A Hussar's vividly colored uniform was often imitated by other European armies. The uniform itself consisted of a high, columnar hat (busby), a heavily braided jacket, and a dolman which is essentially a sleeved cape often trimmed with fur that would hang over the Hussar's left shoulder.
Robin's Repousse Box:
Admittedly, Robin had a tough time choosing her favorite piece, because there are lot of pretty pieces in this collection. But her absolute favorite is the antique Coalport painted and gilt porcelain lidded box (item #94991).
"Although I especially love all the copper cookware because it's heavy decorative and utilitarian, I have to say my favorite item might be the Coalport box. I love the detail — the fine work to porcelain alone is spectacular. Add in all the repousse gold gilt work and it's magnificent. They don't make these things anymore."
This circa late 19th century rectangular box with lobed gilt side panels is decorated with pastel tone flowers and a portrait of a classical beauty. The box has green and gilt floral and leafy borders, is raised on winged ram-form protome legs and has a conforming lid in the same decoration. Additionally, this box has a speckled gilt interior.
Christie's Brass:
The variety of antique brass bollards (item #94943, 94945, 94951, 94954, 94973, and 95346).
"I think the brass bollards are my personal picks from this collection. They are highly decorative in a versatile way. They will layer nicely with any style — rustic, refined, eclectic. Used singularly or in a small grouping on a tabletop or to style a shelf on an etagere, by varying heights and sizes or layer with a piece of artwork and a short stack of antique books."
The variety of antique brass bollards are spherical knob posts were used for tying line. Most of the bollards in this collection were affixed to a base that was then inset into the boat deck. They would make wonderful conversation pieces in any room.
So there you have it. Seven staff picks (with plenty more to go around). What's your favorite? Let us know.
Keywords: nautical, maritime, antiques, lord nelson, gloucester, bollards, ship wheel, pacific mail steamship co, china trade, fine art, ships, brass, antique brass, coalport, masthead