Coral Captivation & Other Trends to Follow for 2019

Design & Decor | PUBLISHED 12.28.18 | Jennifer Ventresca
Expansive ever-changing sunset hues. The rosy pink orange colors that pop against the darkening blues above the earth. The beautiful shimmering pinkish- and orange-reds evolving in the shifting light in warm Caribbean currents. Nature presents captivating coral colors in the most spectacular ways. Here are some tips on how to stay current and on trend with your decor.
Introducing the colors of the year for 2019!
Pantone's Color of the Year
It seems apropos that this decade ends with a spectacularly bold color of the year (at least as far as Pantone is concerned). Introducing the Pantone color of the year:
(Pantone 16-1546).

Living Coral is a duplicitous color that is both intense and soothing depending upon how it is used within the space. Other accent colors and accessories can play-up or tone-down this vibrant hue to create the perfect environment for you. Replacing last year's "Ultra Violet," this coral color adds a sense of energy and fun to the space and can also add a classic elegance when paired with the right accessories.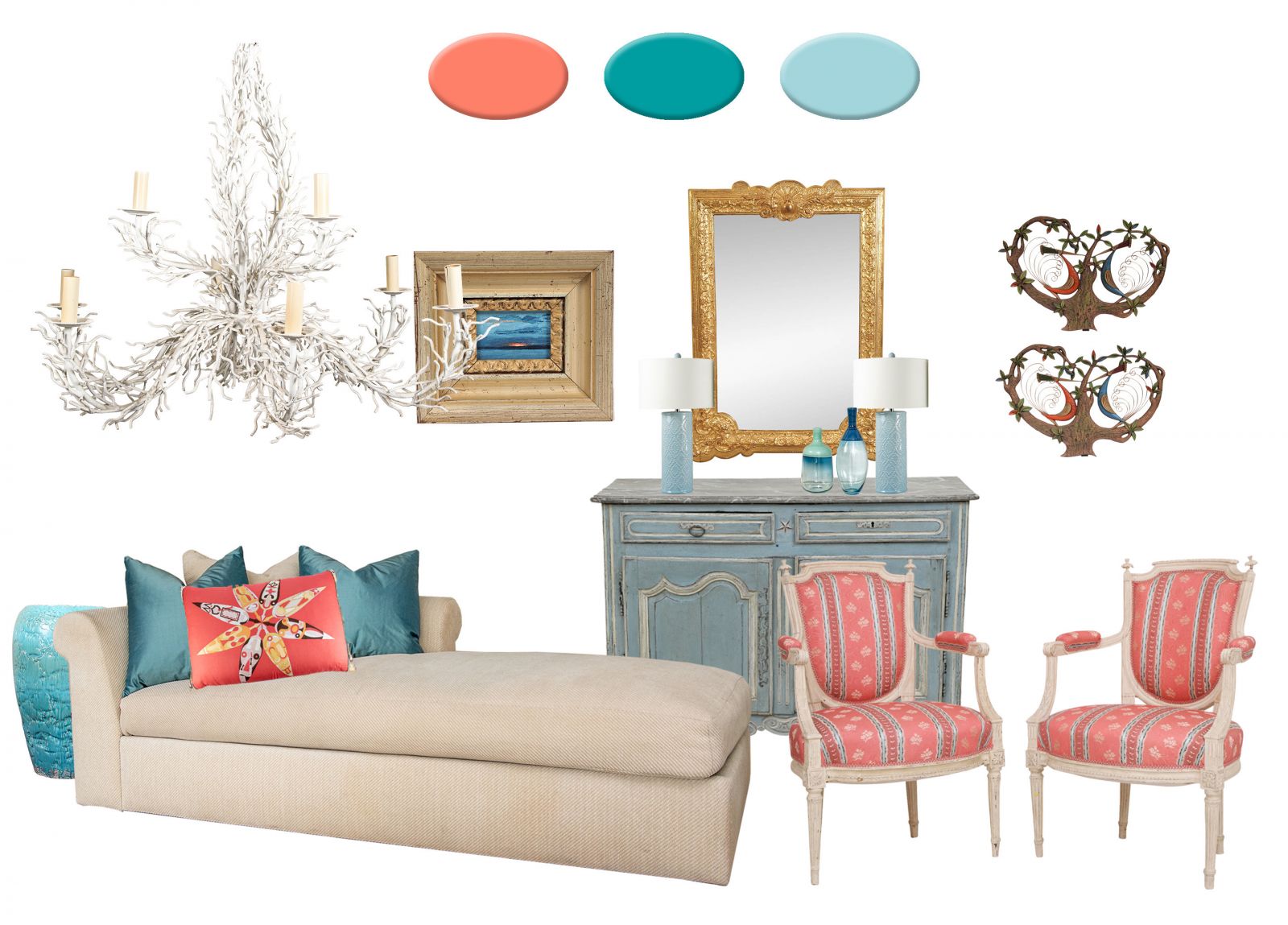 With the items above, we let corals play the "pop of color" role and let more subdued and neutral tones create a restful environment or truly go bold and dramatic room by painting an accent wall in this daring coral color (paired with soft white walls or, perhaps, Benjamin Moore's color of the year, "Metropolitan") and the space will take on a decidedly different feel..
Benjamin Moore's Color of the Year
We sort of segued into the this section my mentioning this versatile neutral. Introducing, BM's color of the year:
(AF-690)
Imbuing a sense of sophisticated calm, Benjamin Moore's "Metropolitan" (AF-690) in the perfect neutral to playfully exhibit your color pops. (Including, perhaps some fun corals for 2019 and purples from last year's Pantone pick?)
Because Metropolitan is a great gray neutral, we can accessorize with just about anything. But, because our over-arching theme is corals, we'll stay within that vein.
This is a soft, warm gray neutral that balances a multitude of colors and sheens (including matte and metallics). Perfect for staying on-trend and current with your design environment.
Putting the colors of the year into action:
Using complementary color pallettes, we've pulled together a variety of pieces that will coordinate with Living Coral. Here are our suggestions using current inventory for inspiration:
Going Very, Very Bold...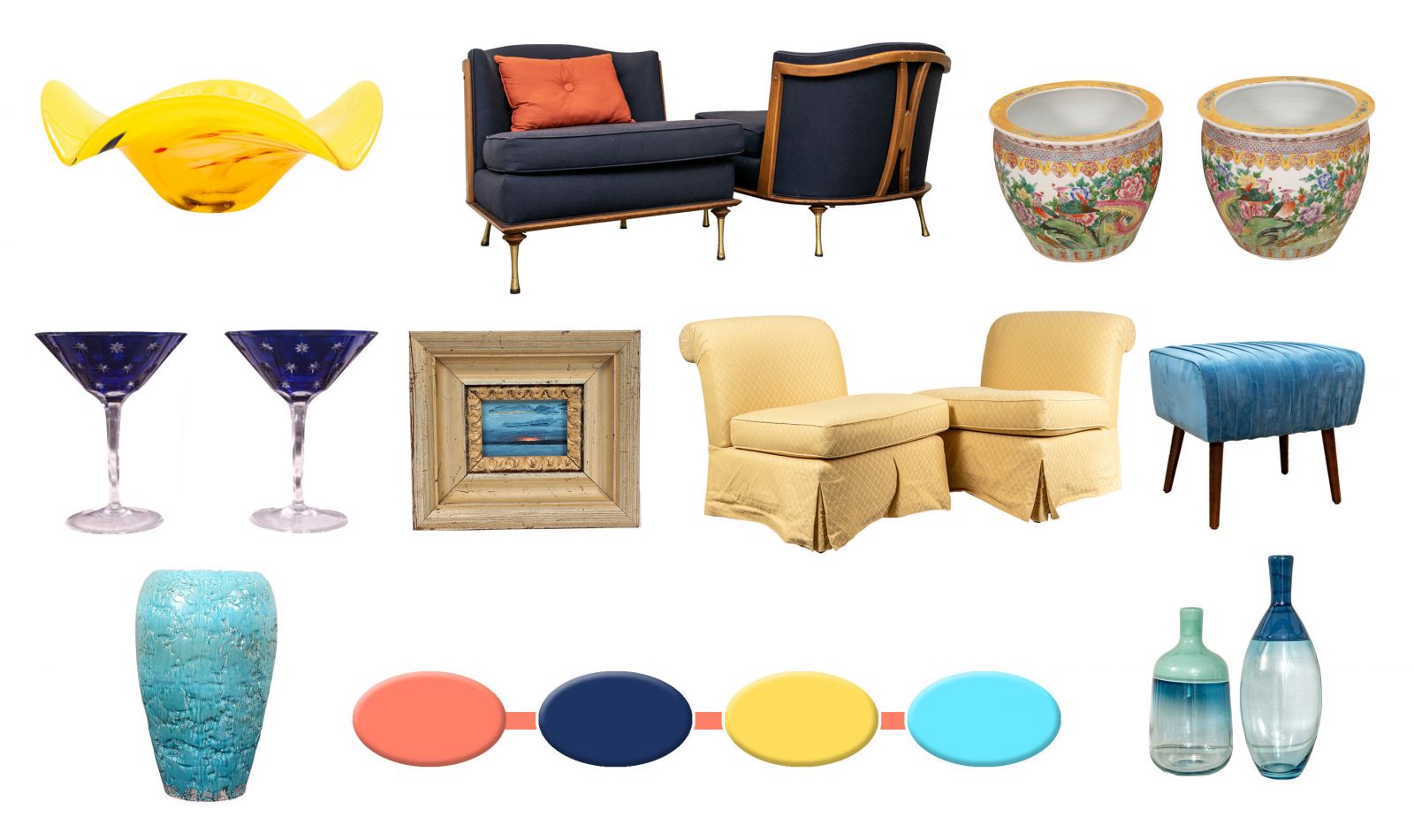 What's here?
• Fabulous Yellow Hand-Blown Candy Dish, Signed (Item #91623)
• Pair of Vintage Barrel Back Club Chairs (Item #92618)
• Pair of Large Famille Rose Porcelain Jardinieres (Item #71586)
• Oil on Board By Sarah Blair "Firefly II" (Item #51522)
• Pair Billy Baldwin Style Slipper Chairs (Item #82681)
• Blue Velvet Footstool/Ottoman (Item #91939)
• Large-Scale Turquoise Glazed Pottery Vase (Item #74959)
• Two West Elm Two-Toned Glass Vessels (Item #88400)
Going Super Sophisticated with Metallics...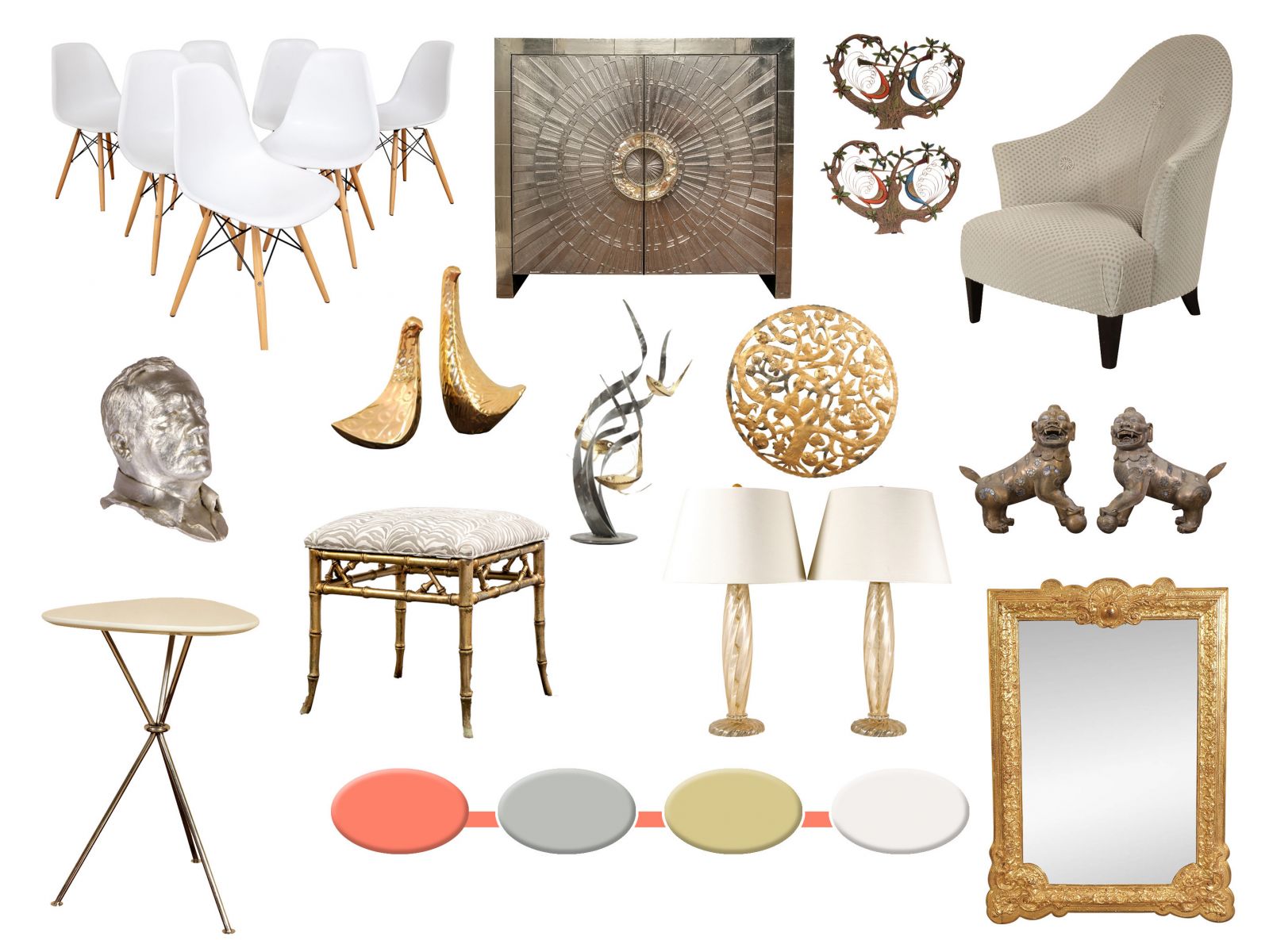 What's here?
• Set of Seven Eames Style Shell Chairs (Item #87753)
• Talitha Console Cabinet by Jonathan Adler (Item #88411)
• Two Large Burwood Exotic Bird Wall Plaques (Item #46090)
• John Hutton Design for Donghia "Shell" Style Club Chair (Item #63644)
• Silver Gilt Bust of a Man, Signed Bello, Dated 1988 (Item #43098)
• Jonathan Adler Golden Porcelain Birds (Item #36977)
• Brass and Steel Sculpture with Fish and Seaweed (Item #38403)
• Large Decorative Brass Pierced Wall Hanging (Item #54940)
• Pair of Tibetan Bronze Guardian Lion Figures (Item #69988)
• Mitchell Gold and Bob Williams Lacquered Stand (Item #57670)
• Adorable Gilt Metal Bamboo Form Bench (Item #88366)
• Pair of Donghia Gilt Murano Twin Light Table Lamps (Item #94591)
• Antique 18th Century Gold Leaf Mirror (Item #55486)
Going Soft, Beachy Chic...
What's here?
• 18th Century Venetian Paint Decorated Triple Back Settee (Item #71103)
• Designer Decoupage Chess Board with Game Pieces (Item #22465)
• Antique Green Paint Decorated Tool Caddy (Item #15333)
• Pair of Napoleon III Carved and Paint Decorated Fauteuils (Item #70992)
• Large Coral Form Crafted Iron Chandelier in White (Item #97929)
• Camel Back Custom Upholstered Headboard in Soft Aqua (Item #37900)
• Mid-Century Abstract Painting Signed "Zouta" c. 1954 (Item #89163)
• French Provincial Green Paint Decorated Cabinet, Early 19th Century (Item #71087)
• Pair of Custom Mahogany Arm Chairs (Item #53999)
• Modern Glass Top Table (Item #62076)
• Pair of Louis XVI Style Arm Chairs (Item #34041)
• West Elm Crackle Style Vessel (Item #88399)
• Pair of Vintage Italian Murano Glass Table Lamps (Item #40917)
---
Keywords: pantone, pantone color of the year, color of the year, 2019 color, benjamin moore, behr, sherwin williams, paint color, coral, living coral, blueprint s470-5, Cavern Clay SW 7701, cavern clay, Metropolitan AF-690, Metropolitan, pop of color, add color, decorating, designing, interiors, interior design