Elvis is in the House! (BRG's Auction House, that is.)

On the Auction Block | PUBLISHED 06.01.18 | ADMIN
The fact that the "Elvis Generation" may be getting older in no way diminishes the memories and collectibility of authentic Elvis items of interest -- something that is not being lost on the folks bidding in BRG's Spectacular Elvis Collection. So when we say, "Elvis is in the House!" (albeit the auction house), we say it with gusto. Whether you know Elvis as "the King," "King of Rock and Roll", "Memphis Flash", "the Hillbilly Cat", or simply "E.P.", his music and legacy are just as relevant today as it was in his heyday.
This particular small, but mighty collection (95 lots) hails from a single-owner's lifetime of collecting all things "Elvis-y" and is comprised of many rare and highly coveted Elvis souvenirs & memorabilia. Plus, with Father's Day approaching, the pieces in this collection will make ideal gifts for the Elvis fans in your life.
Highlights:
As with all our offerings, there are a handful of pieces that fall into the highlights category. These include:
🎶 Rarest 1969 Elvis Presley Authenticated Signature with
Showroom International Menu for Opening Night Only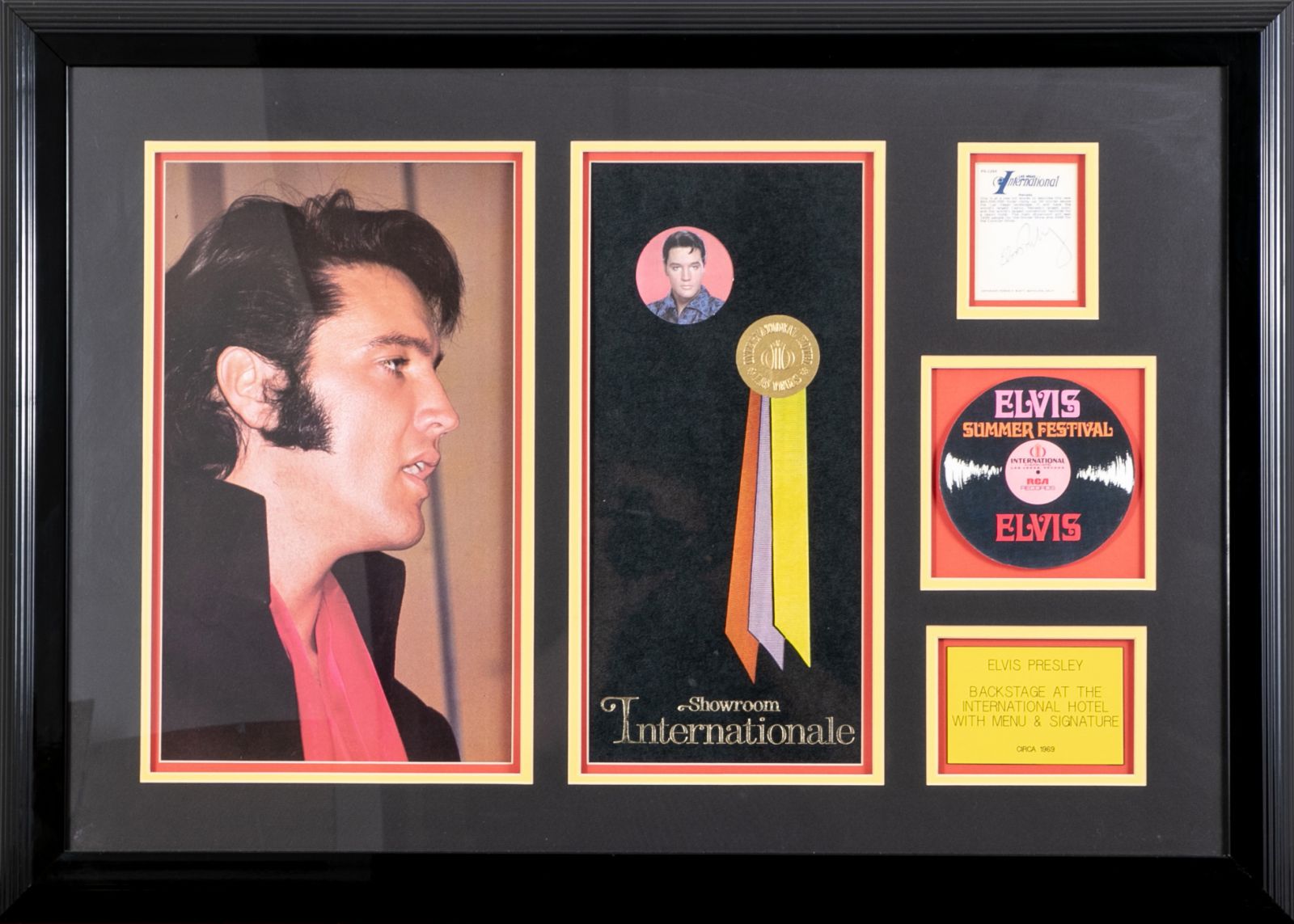 🎶 Original Elvis Concert Pennant with Photo, Beautifully Custom Matted & Framed
🎶 All Original 1947 Wurlitzer Jukebox Model 1015 with Rare Cobra Sound System
(we've been told — but not authenticated — that this jukebox belonged to
Elvis himself, hailing from one of his California homes)
🎶 RARE ORIGINAL MINT Elvis Presley "Jailhouse Rock" One Sheet Movie Poster,
Beautifully Custom Framed & Matted
🎶 Rare Elvis Presley Six String Toy Guitar by Emenee
If you wish to view the full auction catalog or place bids in this auction, visit our current auctions through June 5, 2018. The Spectacular Elvis Collection auction begins to close at 7:35 on June 5th.
Previews:
As much as we try to fully capture the essence of our auction items with our photography, these items are so much better in person! We invite you to preview the Elvis collection at BRG-Greenwich, located at 179 Hamilton Avenue in Greenwich, CT 06830. Preview times are as follows:
🎶 Friday, June 1 from 10 am to 5 pm
🎶 Saturday, June 2 from 10 am to 5 pm
🎶 Sunday, June 3 from 12 pm to 4 pm
🎶 Tuesday, June 5 from 10 am to 5 pm
Keywords: Elvis, Elvis Presley, The King, The King of Rock and Roll, Memphis Flash, Hillbilly Cat, E.P., Elvis generation, collection, memorability, souvenirs, ephemera, jukebox, las vegas