Browse
Closing the Doors after 40 Years: When World Traveling Antique Dealers Retire

On the Auction Block | PUBLISHED 03.20.21 | Jennifer Ventresca
After four decades in the antiques industry, renowned and respected antique dealers, Ed and Jane Grant have retired. The couple supplied both their Washington DC metro based antique shop, Grant Antiques, and their Connecticut showroom, E.J. Grant Antiques, with domestic and imported period antiques and vintage finds from across the globe. Most of their merchandise was sourced during their frequent buying trips throughout Europe and Asia, and the United States.
In fact, the couple recollects their love of their travels in their memoirs, "Memoirs of Our 40 Years as Antique Dealers," published on their business website. As Jane explains, "We have never been content with our established route. England is our first and favorite country and furniture. Then we discovered France. Then Holland and Belgium. On to Italy, Spain, then Scandinavia and later China. As always, bits and pieces from the U.S."
Ed and Jane are world travelers, who especially loved European antiques -- particularly in the United Kingdom and France. Some of their most treasured finds originated in France, the British Isles, Italy, Spain, and beyond.
Over the decades, the couple and their business were also featured in several prestigious publications including: Architectural Digest (Dec 1998, Feb 2005, and Sep 2005), Decorating Spring (Mar 1995), and Style (Nov 1997).
Now, because of their retirement, BRG has a rare opportunity to offer the curated contents of their merchandise. Our team selected their favorites in the collection grouped into several categories: Swedish, French, English/UK, Continental, and Asian. Which are your favorites?

Swedish
1. Swedish Painted Armchair from a Lawyer's Office in Sweden
2. Late 18th Century Swedish Sofa
3. Gustavian Painted Clock, Sweden, 1780
4. 18th Century Swedish Rococo Serpentine, Bombe, Plumwood Commode, Circa 1760
5. Chromolithograph Print of Swedish Bird, Sweden, Circa 1929
6. 18th Century Swedish Sofa in Paint Decorated Finish, Circa 1770
7. Antique Swedish Empire Console Table with Dolphin Support

French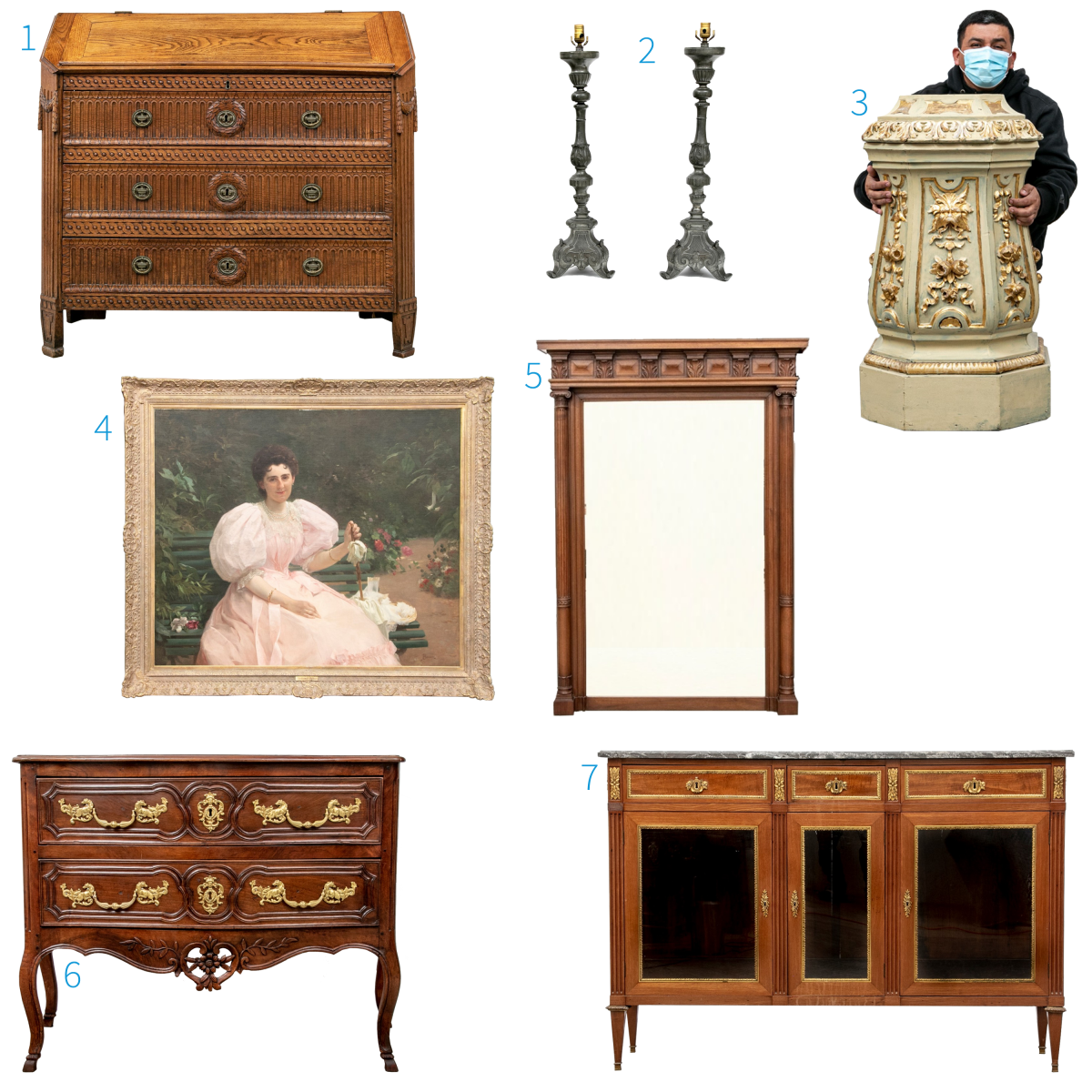 1. French Louis XVI Heavily Carved Stand Up Desk, Circa 1780-1790
2. Pair of Pewter Candle Prickets Converted to Lamps, France, Circa 1780
3. Exquisite French 19th Century Parcel Gilt Pedestal Base
4. Ferdinand Bassot (French, 1843-1900) Portrait of a Lady in Pink Dress
5. French Walnut Mantel Mirror, Circa 1870
6. French Serpentine Reverse Commode Aix-en-Provence, Circa 1770-1780
7. Fine French Mahogany Marble Top Cabinet, Circa 1850

English & the United Kingdom
1. Antique English Regency Gilt Mantle Mirror, Circa 1810-20
2. Pair of English Antique James Rusell & Sons Firehouse Photographs 1876
3. Antique Blue & White Staffordshire Transferware Jug, England, Circa 1830
4. Pair White Paint Decorated English Cast Iron Industrial Brackets - Architectural Salvage, Circa 1892
5. Pair of Antique Brass Candlesticks, English, Circa 1900
6. English Arts & Crafts Oak Server, Circa 1890
7. Needlepoint Dog Cabinet United Kingdom, Circa 1870

Continental
1. Roga Bookplate Print, Belgium, Circa 1913
2. Pair of Continental Magnificent Satinwood Sideboards, Circa 1900
3. White Wash Terra-cotta Beehive Round Pot - Greek Or Spanish, Early 19th Century
4. Pair of Italian Fauteuils, Circa 1780
5. Russian Bookcase Cabinet, Circa 1830
6. Two Piece White Paint Decorated Baroque Chest of Drawers, Germany, Circa 1730
7. Spanish Colonial Farm Implement Mounted as a Sculpture

Asian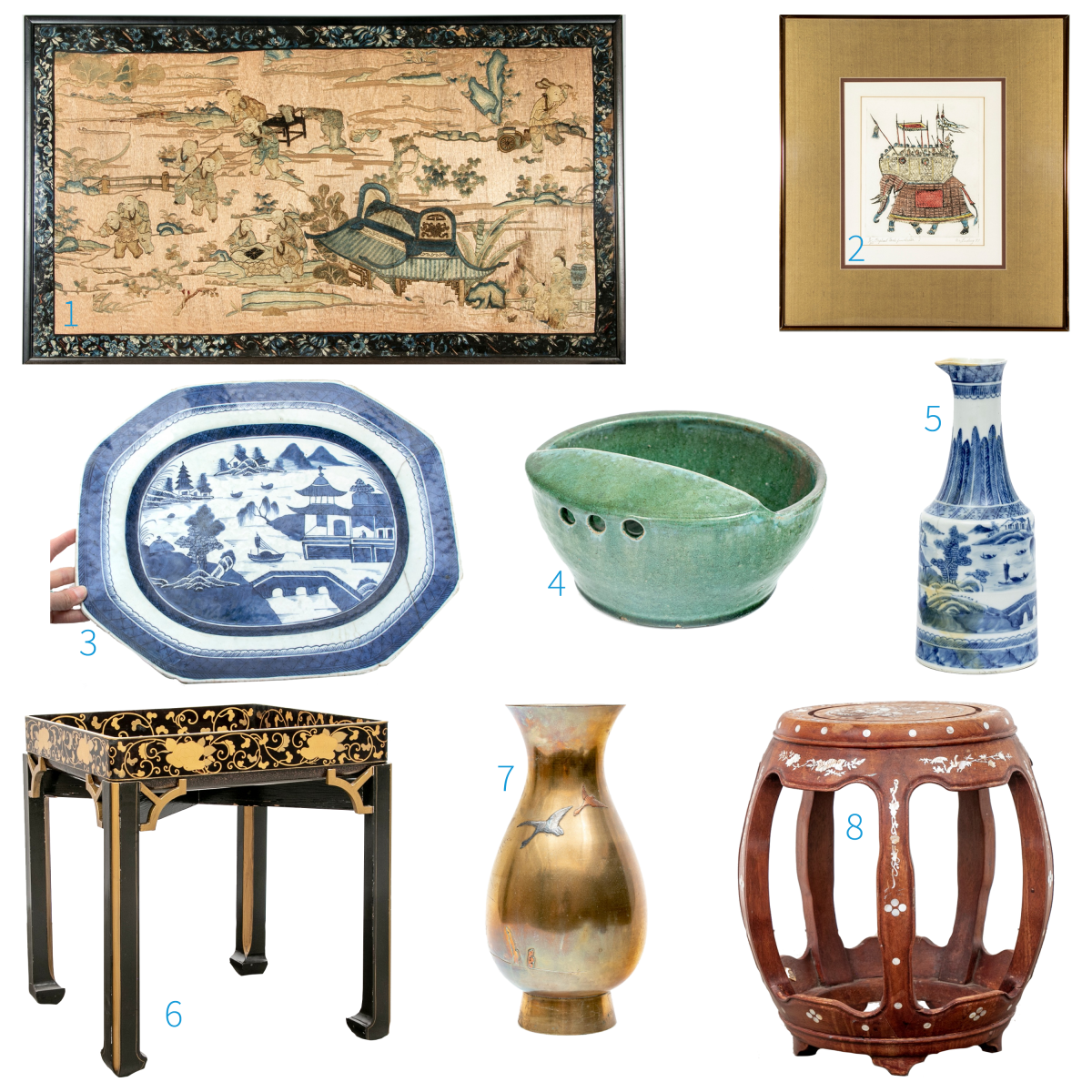 1. Chinese Framed Embroidery, Circa 1880
2. Artie Ludwig Limited Edition Engraving Titled "Elephant Tank From India"
3. Chinese Canton Platter with Stapled Repairs - Late Qing Dynasty
4. Emerald Green Glazed Bowl, Shekwan Province, China, Circa 1900
5. Export Canton Blue & White Vessel, China, Circa 1840
6. 17th Century Japanese Lacquered Tray on a Later Stand
7. Bronze Baluster Form Vase with Flying Geese, Japanese, Circa 1900
8. Inlaid Mother of Pearl Chinese Stand with Garden Stool Form
While we are sorry to see such a fine couple shut their doors after so many years in the industry, we are equally honored to offer our bidders the rare opportunity to find some truly beautiful pieces from a respected and trusted source in the Collection of Ed & Jane Grant - Antiques Business Closing Online Auction (closing on Friday, March 26, 2021).
---
Keywords: antiques, England, French, German, Russian, Swedish, Asian