Browse
BTS Glimpse into a NYC Brownstone

On the Auction Block | PUBLISHED 05.18.21 | Jennifer Ventresca
Nothing says "single family living" in a town where living space comes at a premium like a turn-of-the-century New York City brownstone. The stately brownstone style home has been around since the mid 19th century and refers mainly to the style of stone or brick used on the home's facade. Today, many brownstones are located in highly desirable neighborhoods and are highly sought after because of the amount of square footage and privacy they offer. While many New York City residents pass by hundreds of brownstones each day, but never set foot inside one.
Now, we can offer you a virtual behind the scenes glimpse of a stately brownstone nestled on the corner of Madison Avenue and East 84th Street, where the BRG team spent two days this past February photographing, inventorying, cataloging and transporting the beautiful furniture, art, and decorative accents from this five story, 15-room, 7,000 square foot, home filled with old world charm.
This particular brownstone, covered in Lake Superior sandstone and terra cotta, was designed by John Hemingway Duncan (the renowned architect of Grant's Tomb and the Soldiers' and Sailor's Memorial Arch in Brooklyn).
What we love:
From the elegantly appointed and expansive entertaining spaces with soaring ceiling heights there is so much to love ...
like this amazing dining room...
with a stunning Drexel Heritage mahogany dining table (click the link to see the table without the tablecloth), set of 10 fine quality carved mahogany dining chairs, a pair of Drexel Heritage large scale upholstered armchairs (staged as end-chairs at the dining table), exquisite sideboard by Heirlooms Collection Drexel Heritage, and beautiful room size Aubusson carpet with swan motifs by Stark, as well as numerous decorative accents like a pair of large silver plate five-light candelabra, cut crystal bowl on stand, decorative painted porcelain Chinese style twin light garniture on the mantle, a Chinese carved stone sage figure and Chinese decorated porcelain and brass vase on a stand -- both on the hutch next to the fireplace, a pair of Kirk Stieff silver plate short candlesticks on the sideboard, the gorgeous red silk embroidered long tablecloth, and the Reed & Barton "Winthrop" pattern silver plate tea and coffee service with tray...
or beautifully appointed formal living room...
with fine handmade velveteen upholstered sofa by Kravet Furniture, classy Maitland-Smith leather box on stand as an end table, fine Maitland-Smith leather top kidney table (seen on the other side of room, through a reflection in the wall mirrors), an interesting and unusual tall mahogany tiered revolving book stand -- probably Maitland-Smith. In addition to the furniture pieces, this room has beautiful decorative accents including a lovely Chelsea House Italian painted Majolica cache pot on the window sill, a gilt framed signed V. Morseille oil on canvas of a cottage with flower garden, a V. Mancini signed gilt framed oil on canvas of a pretty flower garden, fine alabaster and brass Neoclassical table lamp, large painted and gilt beveled mirror with florals (look in the reflection of the beveled mirror fireplace surround), and a custom black mesh firescreen along with two sets of candle stands ...
to any one of the beautiful original custom carved wood wood-burning fireplaces...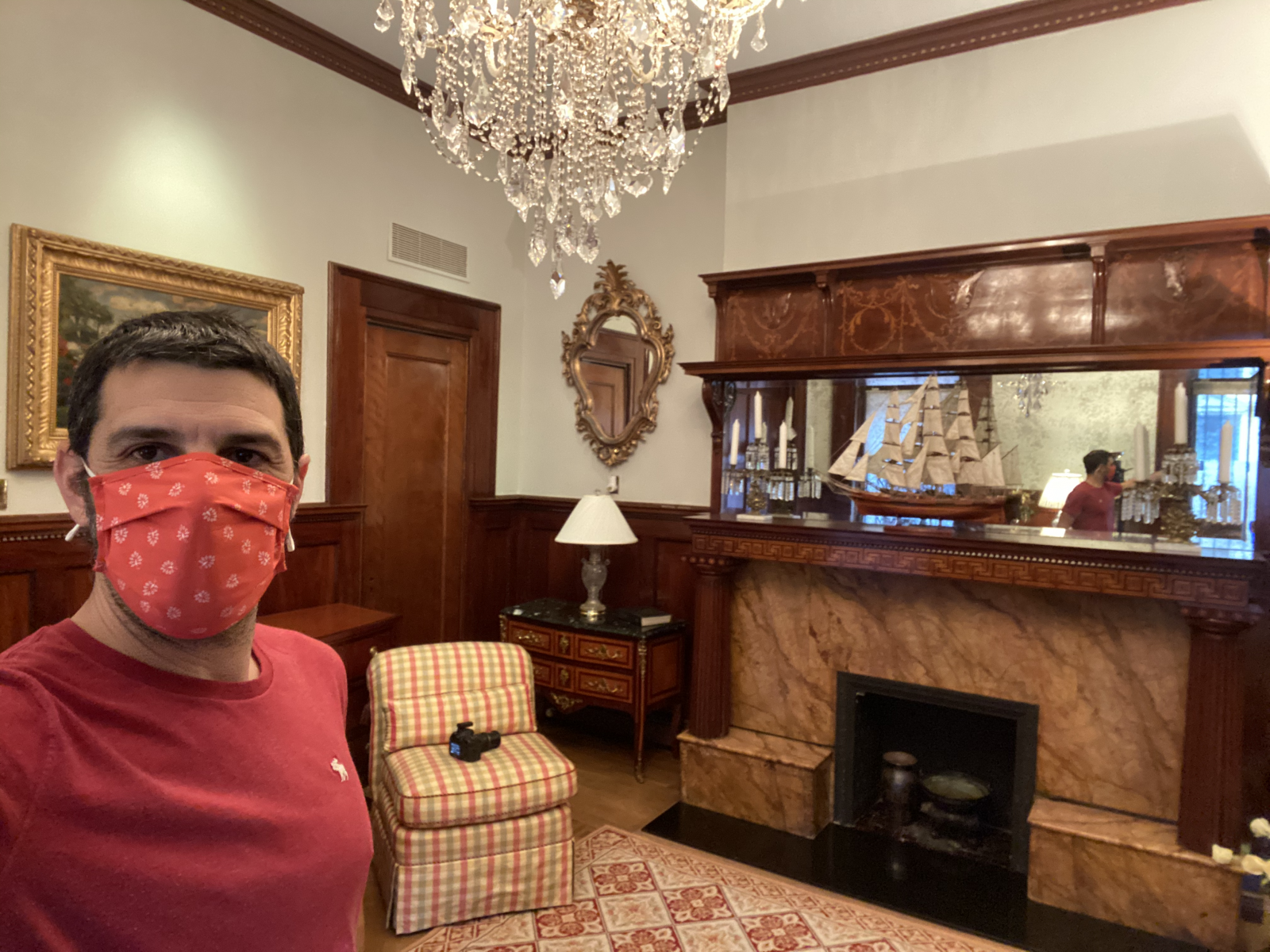 Grant's selfie in this room where the mantle is adorned with a four-masted model ship labeled "Jylland" (one of several beautiful model ships in this collection) and a pair of 19th century classic three light lustres shows just how much he enjoyed this room. Other elements in this space include a pair of beautiful French style marble top parquetry commodes, a pretty needlepoint carpet, Kensett signed oil on canvas, "Walkway To The Shore," a pair of elegant large scale decorative gilt cartouche form beveled mirrors, pair of beautiful cut crystal urn form twin light table lamps, and a pair of fine upholstered large scale slipper chairs by Century Hickory ....
or the grand master bedroom...
with its exquisite carved and gilt decorated mahogany queen poster bed as the focal point of the room, rounded out with a pair of fine carved wing chairs by Hickory Chair, a pair of large quality gilt mirrors by Uttermost, elegant Maitland-Smith chest of drawers in figured mahogany, fine Maitland-Smith figured wood bow front chest, a sweet French style paint decorated upholstered bench, a gilt framed oil on panel depicting a mother and daughter on a terrace with flowers, a P. Nolan signed gilt framed oil on canvas depicting time for tea on a terrace, a pair of tall painted porcelain vases with floral decoration by Castilian (see reflection in mirror), a pair of lovely decorative painted porcelain parrot figures (see reflection in mirror), and a pair of ornate lamps with crystal inserts ....
... there's so much to love!
Here are a handful of other shots of our team at work and some of the beautiful pieces in the home...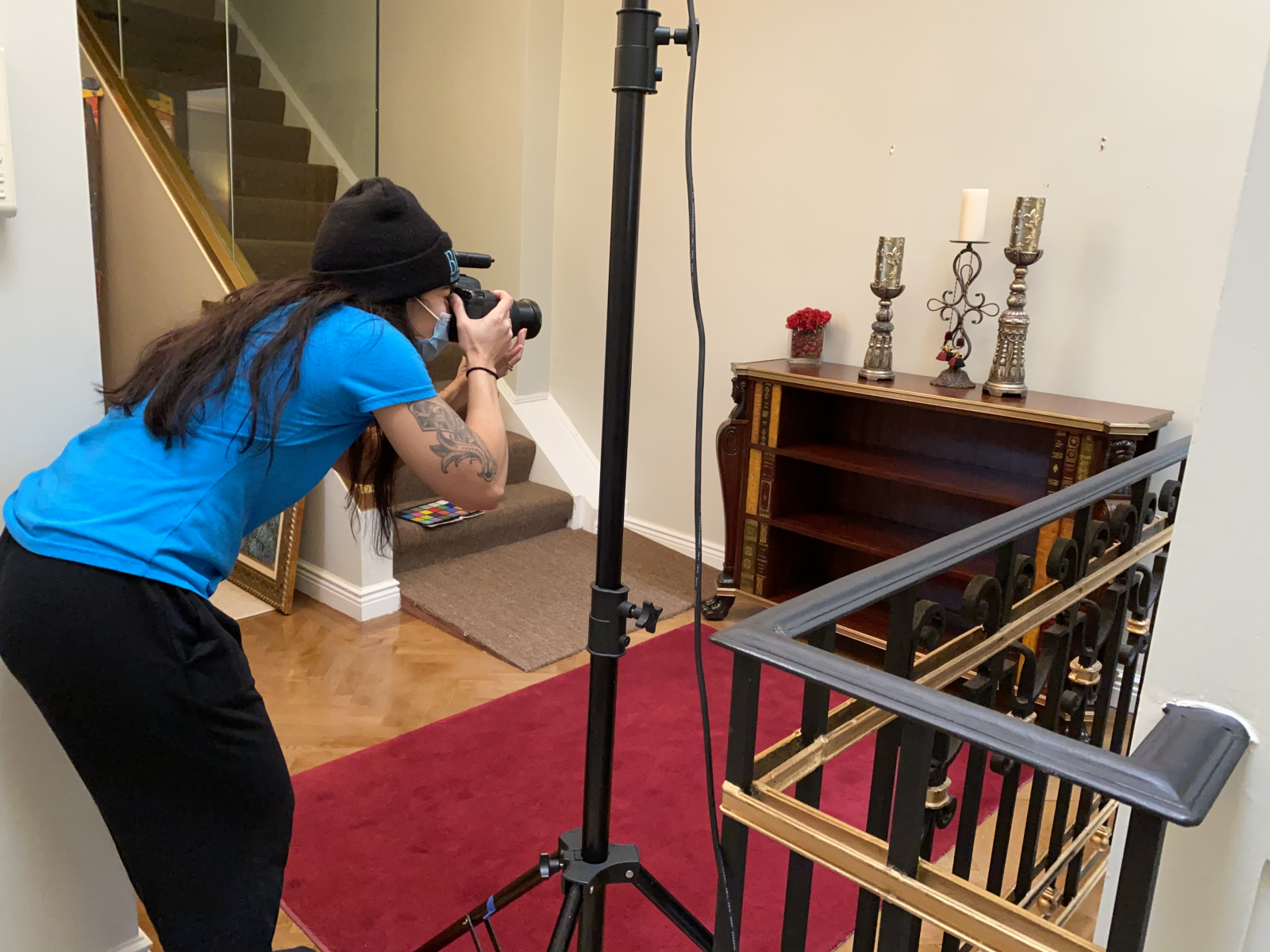 BRG's photographer, Stacey Lopez, set-up a temporary studio in the foyer, where she captures details
of a fine Maitland-Smith carved mahogany Neoclassical bookcase
and creates a vignette with a group of three decorative candlestands.
Two hand-painted decorative Chinese porcelain tabletop pieces are
photographed along with a decorative and heavy brass framed tabletop mirror.
---
To see the entire NYC 84th Street Single Owner Auction collection, click here. Sale closes on Wednesday, June 2, 2021.
Keywords: NYC, New York City, Brownstone, NYC Brownstone, brownstone interior, Madison Avenue, 84th Street