Browse
Be Inspired by the Historic Le Cirque to Add Elements of Whimsy & Bold Design

Design & Decor | PUBLISHED 04.20.21 | Jennifer Ventresca
The legacy of New York City's famed Le Cirque, founded by the internationally acclaimed restaurateur, Sirio Maccioni, decades ago brought the convergence of gastronomy with art and fun. From delectable appetizers to world-renowned decadent desserts such as its famouse creme brûlée, crepes, and molten chocolate cakes, Le Cirque's reputation for presenting its fine dining fare in a uniquely fantastical enviornment is what landed it on the map of must-dine destinations in New York for glitterati and foodies alike. The restaurant's design combined elegance with over-the-top whimsy through the use of bold works of art, uphostery, and decorative accents.
We asked interior designer, Kati Curtis, CID, of Kati Curtis Design in New York City if any of her interiors were inspired or influenced by her experience and memories of Le Cirque.
"The ceiling treatment with the drapery was just so magical," she explains. "It's tough to think of something that was totally influenced by Le Cirque as it's so unique, but we always love to use brightly patterned rugs and round back dining chairs for little touches."
And she's right. Le Cirque was very unique, dare we say, extravagant in some ways. That said, integrating elements of boldness and whimsy into her aesthetic helped Kati create these two very different room designs -- inspired by Le Cirque....
In addition to the bold rugs and rounded back chairs, we love her use of color, mixing of patterns (drapes, accent pillows, even the pattern on the sofa upholstery), and choices of art -- bold and colorful in the living room setting and the more subdued work playing with the rich browns and mochas in the dining room. Stunning!
Kati's Tips
Here are Kati's top tips for getting the look in your own home:
Use Bright colors.
Embrace patterned rugs.
Splurge on drapery.
Integrate Asian lanterns for unique accents.
Sprinkle in some round-back dining chairs.

View more of Kati's designs or find inspiration from her instagram feed @katicurtisdesign.
How can you add authentic Le Cirque elements?
Fans, restaurant regulars and the rest of the world have access to some of the most unique, fascinating, and (of course) fun fine and decorative arts, serving ware, and collectibles from the iconic restaurant. You can find a curated collection from the famed NYC restaurant with items that range from fine (and fun) works of art (many of them oversized and fabulous!) to custom Limoges dinnerware to everything in between online.
Here are some of our staff's picks for bold and colorful items which can be easily integrated into any home:
1. Robert Cenedella (American, B. 1940) "Keep On Truckin" Le Cirque | Signed & Dated (item #155224) or any number of Cenedella works including signed prints and artist proofs
2. Three Antique Decorative Monkeys From Le Cirque 65th Street (item #148811)
3. Pair Of Monkey Paintings - Le Cirque Collection (item #130668)
4. Fantastic Bronze And Ceramic Monkey Lamp By Luxury Goods Maker Castilian Trading - Le Cirque (item #153228)
5. Custom Leather Daybed By Colber For Le Cirque (Bloomberg) (item #130907)
6. Wayne Ensrud (American, 1934) Le Cirque 2000 Original Mixed Media Collage on Panel (item #130670)
7. Kenneth Stern (American) Framed Monkey Panel Painting At Original Le Cirque (1974) Monkeys Cooking (item #130898) or any one of the six Kenneth Stern paintings
8. Pair Of Le Cirque Decorative Monkey Candlestick Holders - 65th Street Le Cirque (item #130611) or Pair of Le Cirque Decorative Monkey Candlestick Holders - 65th Street Le Cirque (item #130612)
9. Set Of 13 Rare Vintage Pomalletto Porcelain Dinner Plates (Maccioni Family) (item #130609)
10. Vintage Faience Goose Tureen - Original Le Cirque (item #153263)
11. LeRoy Neiman (American, 1921-2012) "Circus" Serigraph Edition 2/90 Signed & Framed (item #130906)
Highlights
In addition to our staff favorites, auction highlights include: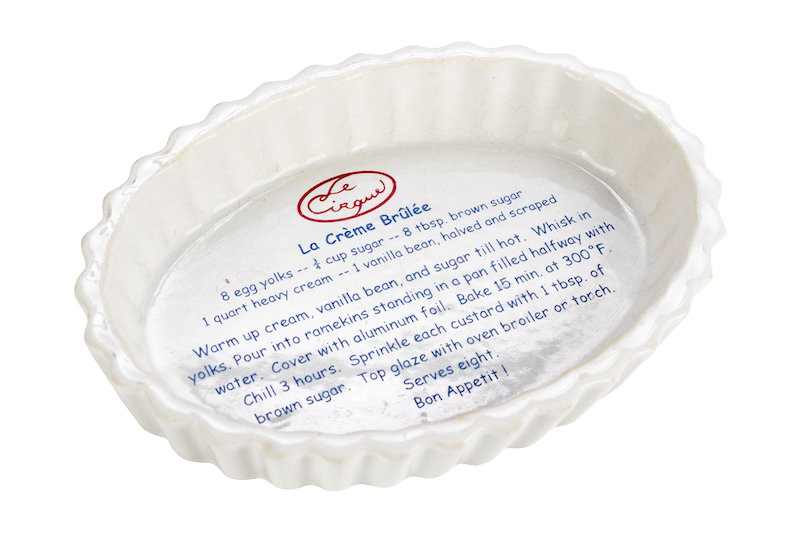 And, just for the fun of it (this is, after all, a blog about Le Cirque's fun and whimsy), we're throwing in an added bonus ... Le Cirque's world famous recipe for crème brûlée (as seen on this inside of each Le Cirque creme brulee ramekin). Bon appétit!
La Crème Brûlée

(serves 8)

Ingredients:

8 egg yolks

3/4 cup sugar

1 qt heavy cream

1 vanilla bean (halved & scraped)

8 tbsp brown sugar (for glaze)

Directions:

Warm up cream, sugar and vanilla bean until hot. Whisk in egg yolks. Pour mixture into ramekins standing in a pan filled halfway with water (ban marie). Cover with aluminum foil. Bake 15 minutes at 300 degrees. Chill 3 hours.

Sprinkle each custard with a tbsp brown sugar. Top glaze with oven broiler or torch.
---
A little Le Cirque History
In the 1970s, restaurateur, Sirio Maccioni, had a vision and created what would become one of the most luxurious restaurants in the world. For over four decades, NY's Le Cirque, founded and owned by Sirio (a James Beard Foundation Lifetime Achievement Award winner), was a bastion of fine dining whose list of clientele included the who's who of celebrities, royalty, and celebutants including: Princess Grace, the Duke and Duchess of Windsor, Sofia Loren, Alec Baldwin, Frank Sinatra, Julia Child, and Presidents Reagan and Clinton. Le Cirque was the place to be seen and known. Heads of states, dignitaries, movie stars, artists, and authors -- they all dined at the lavish and extraordinary Le Cirque.
In addition to its A-lister clientele, Le Cirque's kitchen was a springboard for the careers of prestigious celebrity pastry, sous, and executive chefs such as Jacques Torres, Michael Lomonaco, Daniel Boulud, Geoffrey Zakarian, and the list goes on.
Le Cirque gained worldwide notoriety for its fine food combined with over-the-top art and decor which combined the elegant and outlandish into a cacophony of fun dining. Truffles would be in abundance (while in season). Le Cirque's infamous creme brûlée and Sirio's favorite, paupiette of sea bass, were fixtures on the menu. And for those who knew, the popular "off the menu" pasta primavera (invented by Maccioni) was prepared -- table side -- using whatever vegetables were in season.
For the restaurant's design, Maccioni worked with prominent designers including: Ellen Lehman McCluskey in the early years of the restaurant and Adam Tihany in latter years. The posh and luxurious decor at the original location on 65th Street was just like its clientele. As the restaurant outgrew its original space and eventually moved to the NY Palace Hotel, designer Tihany took over and shifted the style to cutting edge design, with bright colors, bold circus themed decor and introduced Maccioni to Milton Glaser (see the oversized Milton Glaser works in this sale). Glaser was eventually commissioned to paint murals for LeCirque's Mexico City location, in addition to creating a great deal of works for the family and restaurants.
No matter the location, monkeys and circus themes remained a design staple of the iconic restaurant. Even with its wildly fantastical decor, the ringmaster, Sirio Maccioni, was front and center with his large presence at the door -- ready to greet you when you entered.
Although Sirio Maccioni sadly passed away in April of 2020, Le Cirque remains active with locations in Las Vegas, New Delhi, Mumbai, Bangalore and Dubai. The Maccioni family hopes to relaunch in New York again soon.
BRG is pleased to offer the Le Cirque - Sirio Maccioni's Iconic NYC Restaurant
(Fine & Decorative Art, Serving Ware, & Collectibles) online auction featuring
over 300 lots available through May 12, 2021. To view the entire catalog and
auction details, click here.
---
Are you interested in becoming a guest curator or contributor?
We'd love to feature you in an upcoming blog or share your user content on social media.
Tag photos: @blackrockgalleries and use #sharemyBRG #BRGstyle #blackrockgalleries
---
---
Keywords: Sirio Mastrioni, Le Cirque, Fine Art, Decorative Arts, kati curtis design, kati curtis, interior designer, interior design, interior design, New York City, NYC, design tips, interior decor, decor, whimsical, whimsy